Château Gruaud Larose is a wine for the patient collector, one that can be quite austere when opened too early. But with time in the bottle, it evolves magically, revealing remarkable complexity, harmony and finesse on a palate of silky-smooth tannins.
The Story of Saint-Julien Second Growth Château Gruaud Larose
The origins of Château Gruaud Larose date back to 1725, when Abbot Gruaud first purchased 50 hectares (123 acres) of land in today's Saint-Julien and planted it with vines. Upon his death, his nephew Chevalier de Larose inherited the estate in 1781 and expanded its vineyard to a total of 80 hectares (197 acres). In fact, the château gets its name from these first two owners. As Chevalier de Larose did not have an heir, the property was put up for auction and purchased jointly by two different families in 1812.
In 1855, Château Gruaud Larose was rated a Second Growth in the Official Classification of the Médoc, commissioned by Napoleon III. Just a few years later, in 1865, the souring relations between the two owning families resulted in the estate being split into two. Château Gruaud Larose would spend nearly a century divided in two, until it was returned to its normal size by the Cordier family.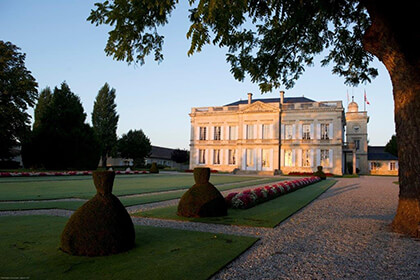 Having purchased the two different sections separately in 1917 and 1935, the Cordier family of wine merchants reunited the historic property in 1935. Château Gruaud Larose became one of the crown jewels of the Cordier family's landholdings, along with Château Lafaurie-Peyraguey in Sauternes and Château Talbot in Saint-Julien. After passing through a succession of different owners between 1983 and 1997, the estate changed hands one final time, when it was acquired by its current owners, the Taillan Group, headed by Jacques Merlaut in 1997. Merlaut is also the owner of several other Bordeaux properties, including Château Haut-Bages Liberal in Pauillac and Château Chasse-Spleen in Moulis.
Under its ownership by the Merlaut family, Château Gruaud Larose has experienced a true renaissance in style. The family has introduced principles of sustainable development and methods of organic viticulture out in the vineyards. Today, the estate is owned by Jean Merlaut. Nicolas Sinoquet runs the estate as General Manager, working closely with Vineyard Manager Patrick Frederic, Cellar Master Sephanie Lebaron-Bouchonneau and Consulting Oenologist Eric Boissenot.
Out in the Vineyards of Château Gruaud Larose
Château Gruaud Larose in a Classified Second Growth of the Saint-Julien appellation, in the Médoc wine region on the Left Bank of Bordeaux. The estate is home to 82 hectares (203 acres) planted to the vine, of which roughly 61% is dedicated to Cabernet Sauvignon, 29% to Merlot, 7% to Cabernet Franc and 3% to Petit Verdot. The proportion of Cabernet Sauvignon has increased significantly over the years, the goal being to eventually have it represent 70% of the total plantings.
The vineyard is situated on a plateau comprised of Garonne gravel from the Quaternary period, as well as some pebble, sand and clay. The gravel soils, so typical of the Médoc, are known for their excellent water drainage, providing the ideal environment for Cabernet Sauvignon.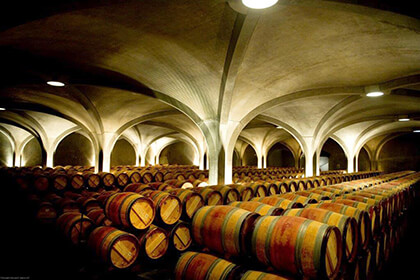 The hot temperatures between July and September allow the fruit here to reach the ideal stage of ripeness in time for the harvest, while east and west winds help dry the grapes and prevent vine disease. The vines, aged 46 years on average, are planted at a high average density of 8,500 to 10,000 vines per hectare, allowing for concentrated, high quality grapes.
The vineyards are managed with Integrated Pest Control and organic fertilization. The team carries out leaf thinning, bud and shoot removal, and green harvest in order to limit the yield and concentrate the fruit. Recently, around 70% of the vineyard was conducted with biodynamic viticultural methods, with the objective being to increase this proportion over the next few vintages.
Winemaking at Château Gruaud Larose
At Château Gruaud Larose, the harvest is strictly manual. A first selection is carried out on a sorting table directly in the vineyard, followed by a double sorting upon reception at the winery. The fruit is vinified separately by grape variety, terroir and age in a combination of thermo-regulated tanks, of which 50% is oak and 50% cement.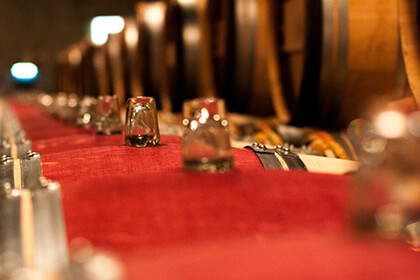 The alcoholic fermentation takes place at temperatures of 24°C - 26°C and total maceration time lasts 20 to 30 days at adapted temperatures. Following the pressing by vertical press, the press wine is immediately transferred into barrels. The wines are aged for a period of 18 to 24 months in fine-grained French oak barrels, of which roughly 80% is new each vintage and the rest 1-2 years old. The proportion of new to used oak and the proportion of each grape variety in the blend varies according to the character of each vintage.
Since 1979, Château Gruaud Larose has also produced a Second Wine by the name of Sagret de Gruaud Larose, which is aged in oak barrels (roughly 15% new oak and the rest 1-2 years old) for a period of at least 14 months.
The Signature Style of Château Gruaud Larose
The Grand Vin (First Wine) of Château Gruaud Larose is a perfect red wine to add to the collection of any great wine lover. While this Second Classified Growth of Saint-Julien can be quite closed, with austere tannins, in its youth, it evolves remarkable complexity, harmony and finesse over time spent ageing in the cellar. For most vintages of this Bordeaux wine, it is recommended to cellar for at least 10 to 15 years to allow the tannins of the wine to soften and for the nuanced aromas to fully express themselves.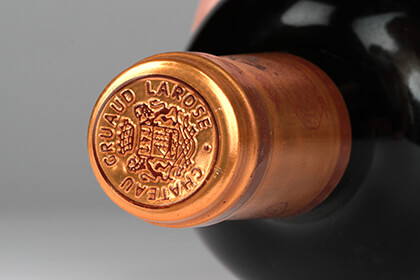 With sufficient age, Château Gruaud Larose reveals delicious aromas of concentrated black fruits (blackberries, blackcurrants and black cherries), along with woody touches of cedar, spices and black liquorice. The ripe fruit and earthy, spicy touches of this wine will allow it to go perfectly with most classic meat dishes as food pairings, including steak with a Bordelaise sauce or stewed oxtail.
While approachable at a slightly younger age, the estate's Second Wine Sagret de Gruaud Larose is similar in style to its big brother, revealing a beautiful charm and gluttony, if not the same power. This wine offers deliciously juicy red and black fruit on the nose, rounded out by touches of tobacco, prunes and spices. A fantastic Saint-Julien to pair with your next Sunday meal.