Getting that glistening pink colour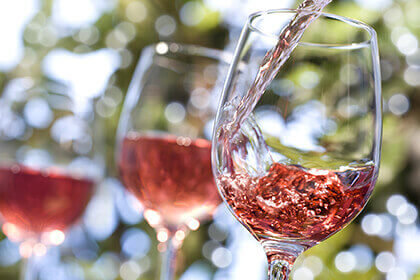 You may be wondering how rosé gets its span colours ranging from copper to salmon and of course to the self-evident pink. It isn't just a matter of mixing up red and white wine even though this can be done for some sparkling wines. When it comes to rosé, it's quite uncommon for this to be done. Instead, the skins of red grapes have to touch the juice for just a short time to get one of those pinkish colours. The time the red wine grapes are left to rest with their juices is called maceration, and it can last from two to twenty hours – it just depends on how deep of a pink colour the winemaker desires for the wine. Another way is called saignée in which some of the juice during the first few hours of red winemaking is "bled off" and placed into a separate vat to make rosé. This makes a perfectly lovely rosé as well, but it also concentrates the aromas and flavours of the wine. Whatever the way, you'll end up with a beaming rosé in your glass overflowing with fresh fruit aromas that can include zesty citrus like lemon, grapefruit or orange peel, stone fruit like peach or apricot, or tropical nuances like green melon – just to name a few. On top of this, you can expect a crisp acidity that will quench your thirst, but leave you craving another sip.
Provence: The queen of rosés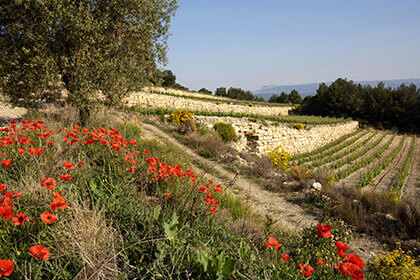 Provence is the land where rosé is queen, and where it reigns supreme over other styles. The appellation couldn't ask for a better climate to make its beautiful pink wines. Its Mediterranean climate allows for plenty of sunshine that gives mild winters and very warm summers – the perfect weather for drinking rosé. There's no need to worry about all that sunshine making the grapes overly ripe because the gusting Mistral wind roars down from the north. In the midst of the scorching summer days, this wind cools down the grapes; and after the rains, it helps dries everything up and this helps the vines to avoid rot and disease. When it comes to the soils, there is an incredible mosaic across the region. In the western part, we can find limestone outcrops in the east, but if we travel towards the west, we'll discover schist and volcanic soils. As we go further inland, we unearth more clay and sandstone. From all of these different soils, we can find an abundance of wild shrubs like juniper, lavender, rosemary and thyme, and they all play a role in influencing the personality of the rosés. Collectively, these shrubs are called "garrigue" when they grow in limestone/clay soils or they are termed "maquis" when they sprout from a schist terroir. All of these influences from the climate and soil provide a home for a great number of grape varieties. For rosé wines, the most common red varieties include Grenache, Syrah, Mouvèdre, Carignan, and Cinsault.
We definitely can't talk about rosés from Provence without mentioning the Cotes de Provence , the largest AOC at about 20,000 hectares and biggest rosé producer in the region. Out of its entire wine production, rosé makes up 89% of it. One of the most famous estates is the Domaine de Miravel that was purchased by the celebrity couple Brad Pitt and Angelina Jolie in 2011. The estate's Miravel rosé with its shimmering salmon-coloured reflections is perfect for those summer moments with its refreshing salinity. Côtes de Provence is further divided into four sub-regions with La Londe and Sainte-Victoire being of particular importance. La Londe with its steady sea breezes from the Mediterranean and quartz soils have Grenache and Cinsault at the core of its rosés. Cinsault brings freshness, finesse and fruitiness while Grenache gives elegant aromas of small red fruit. Château Sainte Marguerite, one of the classified growths since 1955 in Provence, is one of the estates making these fresh, aromatic, pale pink wines with the use of 100% organic vineyard practices. The sheltered vineyards Sainte-Victoire lie along the banks of the Arc River and grow in poor, shallow, limestone soils. The rosés are juicy and fresh with lovely acidity that have Cinsault, Grenache, and Syrah dominating the blends. For the typical Sainte-Victoire style, they'll be plenty of black fruit aromas and flavours coming from Syrah. Château Coussin is one such estate with this fruity, elegant style.
Heading just to the west of the Côtes de Provence, we come across another rosé-making area called the Coteaux Varois, or the "Heart of Provence" since it is located at the core of Provence. These wines owe a great deal of its character to its limestone mountain ranges and continental climate. Vines at these higher altitudes benefit from cooler temperatures and have a longer, slower ripening period. The rosés are crafted from Cinsault, Grenache, Mourvèdre, and Syrah. However, you can also find blends with traces of Cabernet Sauvignon and the white variety Rolle. You can expect these wines to have crisp acidity and complex flavours like the ones coming from Domaine Saint-Andrieu. Before finishing up our Provence rosé tour, we'll head just a little south to Bandol. The southern-facing hillside vineyards bake in the warm summer temperatures that the Mediterranean breezes cool down. This is ideal for the thick-skinned Mourvèdre red grape that thrives in the sandy marl and limestone soils. In rosés, Mouvèdre adds its smooth suppleness along with violet and blackberry notes to its most common blending partner Cinsault. Château de Pibarnon creates bold, complex rosés that have Mourvèdre as the main star in the blend.
Tavel: Deep pinks from the Rhône Valley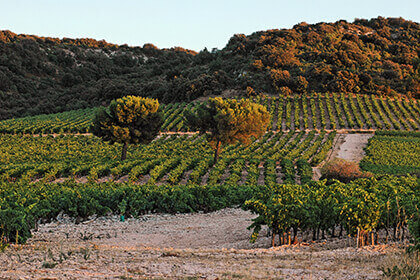 Continuing our rosé wine tour of France , it's time to make our way to the southern part of the Rhône Valley to the Tavel appellation. These rosés have stood the test of time throughout the ages. A favourite among royalty like King Philipe le Bel and Louis XIV, and among writers like Honoré de Balzac from the nineteenth century and Ernest Hemingway from the twentieth century. Tavel is truly unique in the sense that it solely devotes itself to making dry rosé wines, and that it produces one of the rare rosés that can benefit from several years of bottle ageing. The hot, dry Mediterranean climate is perfect to help the grapes reach their best ripeness that gives a unique depth of flavour to these rosés. The stony, sandy soils also bring a robustness to the wines as well. The backbone of these wines is Grenache, but a vast array of other varieties can also be included in the rosés. Besides the usual suspects (Cinsault , Mourvèdre and Syrah ), Bourboulenc, Clairette, Picpoul and Carignan can be added to the mix. Unlike the pale hues of Provence, Tavel wines give deeper colours like salmon or even deep ruby pink because the juice is kept in longer contact with the skins during fermentation. You'll also find the bouquet bursting with summer fruits and enjoy the full, rounded mouthfeel. Domaine de la Mordorée makes such mesmerizing rosés to make all your summer evenings enchanting.
Corsica: Enticing rosés from tongue-twisting varieties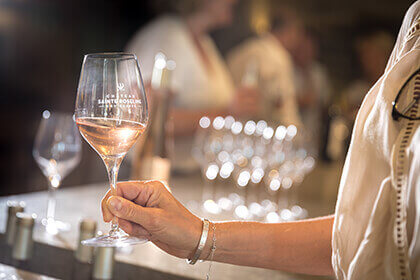 Time to leave the French mainland to do some island hopping to Corsica where we'll find rosés from native varieties that have tongue-twisting names. Two of these indigenous varieties that are used in Corsican rosées are Niellucciu (pronounced knee-el-loo-cho) or Sciaccarellu (pronounced sha-ka-REL-loo). The name Niellucciu means "black and dry" in Corsican and it grows mostly on the north part of the island. It's related to Tuscany' celebrated Sangiovese variety, so Niellucciu brings red fruit and earthy aromas and flavours with floral, herbal and mineral notes to a blend. For the body, it offers robustness and tannins to the island's rosés. Sciaccarellu, from the south part of the island, is known as Corsica's Pinot Noir because of its elegance and complexity. It contributes soft red fruit and hints of liquorice along with a high acidity to rosé blends. Keep in mind, the island is abounding with many other indigenous and international varieties that sneak their way into the rosés as well. These varieties benefit from a mosaic of climates, elevations, and soils. The climate varies from continental to maritime so that means there are perfectly warm days with just enough rain during the growing season, along with some salty air blowing through the vineyards. Looming over the vineyard landscape is Monte Cinto, the island's highest peak that also plays a part in influencing the climate. Similar to Provence, there is a vast array of soils ranging from granite to schist to limestone, and these soils also sprout 'maquis'. The highly aromatic plants like heather, mint, myrtle, lavender, and sage making up this dense vegetative congregation find their ways into the aroma and flavours of Corsican rosés. One of the most well-known estates using native varieties in its rosés is Clos Canarelli, which can found along the southern coast in the Corse Figari appellation. Yves Canarelli who runs the vineyard has been one of the biggest supporters for the revival of Corisica's indigenous varieties. Another esteemed vineyard known for its rosés from old vine Sciaccarellu and Barbarossa is Domaine Comte Abbatucci, just outside Corsica's picturesque capital, Ajaccio. These rosés capture everything this island paradise has to offer as you swirl them around in your glass. The sun, salt air and cool ocean breezes rise up from your glass to make you feel as if you are right there.
There is nothing better than a glass of chilled rosé to quench your thirst on the hottest of summer days. Whether it is the lightest or the darkest of pinks from Provence, Tavel or Corsica; or whether it is with friends or family for a countryside picnic, a day at the beach, or afternoon lounging at home, there is always a perfectly pink rosé to match any of your special summer moments.