Each bottle is graced with a label depicting the estate's dreamy ivy-coloured château, which has served as the home for winemaking excellence for over four centuries. Château Lascombes offers a beautiful expression of the cherished Margaux terroir through wines that are rich and full-bodied, with a nose of luscious black fruit and cedar, and supple, elegant tannins on the palate.
Château Lascombes Through the Centuries
One of the first known owners of Château Lascombes was the knight Chevalier de Lascombes, who was born in 1625 and inherited it from the Durfort de Duras family. The estate remained the property of the Lascombes family for the three generations that followed, up until the French Revolution. Over the next few centuries, Château Lascombes would pass from one owner to another, each one contributing their own personal touch to the estate and its wines. The picturesque, ivy-coloured « chartreuse » style château we see on the property today was originally constructed during the 17th century but went through a series of modifications by the succession of owners. In 1855, Château Lascombes was officially rated as a Second Growth by the 1855 Classification of Médoc wines, commissioned by Napoleon III.
In 1952, Château Lascombes was acquired by a syndicate of American investors headed by Alexis Lichine, who has also purchased Château Prieure-Lichine, another Margaux estate. For the next two decades, Lichine invested his expertise into improving the vineyards of the estate, which by the 1950's had been all but neglected and produced wines of sub-par quality.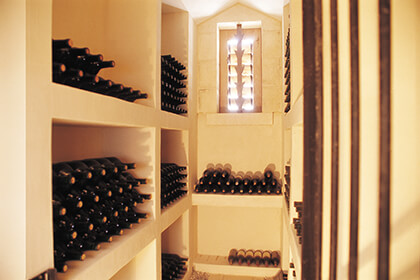 In 1971, the British brewing company Bass Charrington took over the backing company and brought on Rene Vanatelle as the new winemaker of the estate. After a thorough evaluation of the estate's vineyards, Vanatelle determined that only 50 hectares (120 acres) of the total 84 hectares (208 acres) were of high enough quality to produce Second Growth level wines. During the 1980's, he segmented these vineyards and began producing from the lesser quality plots a Second Wine by the name of Château Segonnes. Before retiring, Vanatelle introduced a new Second Wine of superior quality named Chevalier de Lascombes. The estate still produces this Second Wine, along with a Third Wine from the Haut-Médoc appellation.
In 2001, Château Lascombes was purchased by Colony Capital, based in the USA. This company invested heavily in modernizing the château, renovating the estate, replanting the vineyards and constructing a brand new four-level winemaking facility with a gravity fed vat room and new ageing cellars. Colony Capital also brought on a trio of superstar winemakers - Michel Rolland, Dr. Alain Raynaud and Yves Vatelot - to consult on the winemaking at Château Lascombes, as well as Dominique Befve as estate manager. These improvements definitely paid off, and the company succeeded in raising the price of the estate's wines by a significant margin.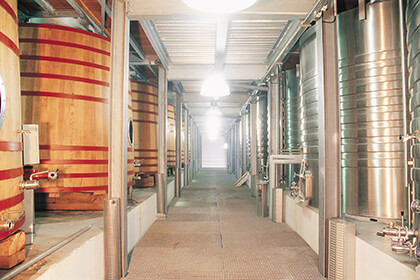 In 2007, Colony Capital put the château up for sale and it was subsequently purchased in 2011 by the French insurance company MACSF (Mutuelle d assurance des services de sante francais). Today Dominique Befve remains estate manager of Château Lascombes, working closely with Technical Manager Delphine Barboux, Viticulturalist Miguel da Fonseca and consultant winemaker Michel Rolland.
In the Vineyards of Château Lascombes
The 1855 Classified Second Growth Château Lascombes is situated in the north-western part of the Margaux appellation of the Médoc wine region on the Left Bank of Bordeaux. Today considered one of the largest classified growths of Bordeaux and the largest vineyard of the Margaux appellation, Lascombes reigns over a vineyard of 120 hectares (296 acres) in Margaux and an additional 10 hectares (24 acres) in Haut-Médoc.
The vines are planted in three main soils types, representing three separate blocks of the vineyard with roughly the same surface area : a gravelly outcrop of Cabernet Sauvignon and Petit Verdot, a block of clay-gravel with Cabernet Sauvignon and Merlot, and clay-limestone with high-quality Merlot. Château Lascombes is one of the only Margaux properties with more Merlot planted than Cabernet Sauvignon, with the distribution of grape varieties being 50% Merlot, 45% Cabernet Sauvignon and 5% Petit Verdot. Nevertheless, the blend of the Château Lascombes Grand Vin is usually made up of roughly 55% Cabernet Sauvignon, 40% Merlot and 5% Petit Verdot.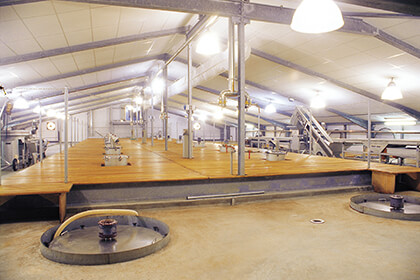 At Château Lascombes, the vineyard work is carried out in a very precise manner. De-leafing and green harvesting are carried out manually year after year, with the aim being to reduce yield and obtain perfectly ripened, highly concentrated fruit. The harvest date is determined by a combination of rigorous analysis on the grapes and a series of tastings in the vineyard.
Winemaking at Château Lascombes
Easily recognizable by the halo of fluorescent blue light emanating from its first-year barrel cellar, the Château Lascombes winery stands as a symbol of classicism, strength and sobriety in Médoc winemaking.
The four-story winery was constructed with a gravity-fed winemaking system in mind. It is outfitted with temperature-controlled vats made of oak and stainless steel in a variety of sizes to allow for plot-by-plot and variety-by-variety vinification. The wines age 18 to 20 months in French oak barrels, the percentage of new oak having been reduced significantly in the past few years. Château Lascombes uses a unique barrel rotation system, which keeps the lees suspended in order to increase their contact with the must. This technique results in a wine with more body and volume without having to expose it to oxygen.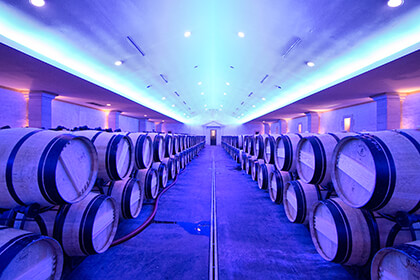 Each vintage, Château Lascombes produces an average 300,000 bottles of its namesake first wine, as well as around half that much of its second wine Chevalier de Lascombes. The estate also produces roughly 20,000 bottles of a third wine called Haut Médoc de Lascombes from its vineyards in the Haut-Médoc appellations.
The Signature Style of Château Lascombes
In most vintages, the Château Lascombes Grand Vin is a full-bodied and rich red wine, characterised by highly concentrated aromas of ripe black fruit and touches of cedar. Depending on the vintage, aromas of coffee, liquorice, spices and cardamom can add further nuance to the bouquet. One of the classic Margaux wines, its tannins are usually quite supple, elegant and smooth, especially after ageing seven to eight years, which is recommended for most vintages. Nevertheless, it can age in the cellar for 30 years or more, evolving great complexity over time. Flavours of blackberry, blackcurrant and raspberry mingle with mocha and toasted bread nuances upon a precise, tense and slightly mineral palate.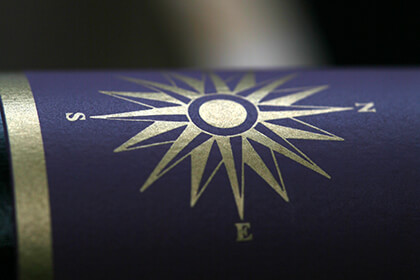 Château Lascombes should be served at a temperature of 17°C (62°F) to allow it to fully express its character. This smooth and elegant Margaux will lend itself readily to a wide array of food pairings, especially with classic meat recipes with beef, lamb, veal or poultry. Try it with a roast duck breast served with a green pepper sauce or pork loin served with earthy morel mushrooms.
Chevalier de Lascombes in the estate's Second Wine, produced from Cabernet Sauvignon and Merlot, depending on the vintage. A wine of undeniable charm, Chevalier de Lascombes is approachable at a younger age, offering a seductive nose of blackberries and liquorice, and a round, ripe and supple palate.