Veneto is one of the largest wine producing regions in Italy, located in the northeastern corner. The area has 14 DOCGs and 28 DOCs offering a variety of microclimates, grapes and soils in close proximity. The region ranges from mountainous vineyards bordering the Italian Alps to warm flat vineyards that see much warmer temperatures near Verona. The region uses traditional winemaking methods to produce hearty reds, fragrant sparkling wine and everything in between. In the 1990s, the region became increasingly popular with the rise of Valpolicella, Amarone, Soave and Prosecco.
Soave – the most famous white wine in Italy
History can trace this grape back to the Roman times and has become arguably the most famous white wine in Italy. Made primarily from Garganega and some Trebbiano di Soave grapes in the village of Soave just east of Verona, this wine tends to have two distinct styles. Some can be dry, crisp and lively with flavors of peach, honeydew melon and citrus. The other style is richer and velvety with more complex subtle nutty notes from ageing in wooden barrels. Both styles pair wonderfully with hearty seafood dishes and can age quite nicely gaining notes of honey, marmalade and lemon.
Soave can be broken down into five different DOCs ranging in styles and regulations:
- Soave DOC: best drunk young, this wine is clean, friendly and appealing with freshness and delicate notes.
- Soave Classico DOC: harvested exclusively from vineyards on the hillside of the Soave and Monteforte communes. A slight mineral note on the palate adds complexity to the floral and fruit notes.
- Soave Spumante DOC: a sparkling Soave with an elegant and fragrant nose.
- Soave Superiore DOCG: harvested exclusively from vineyards on the hillside of the Soave commune, the wine must be aged for a year with an additional three months in the bottle. This style will be fresh and easy drinking with the potential to age for up to 10 years.
- Recioto di Soave DOCG: a sweet style made from a technique called appassimento, where after harvest the grapes are laid out on mats which dries the grapes and concentrates the sugars. The wine is bright yellow in color with notes of honey and flowers.
Prosecco – Italy's shining sparkler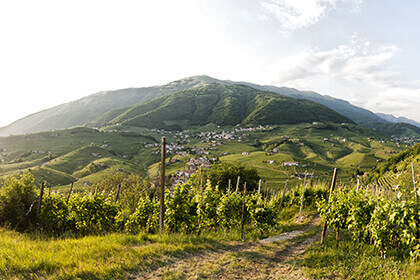 Prosecco is a sparkling wine produced in select parts of northeast Italy just north of Venice. Made using the Charmat process, or tank method, the wine undergoes secondary fermentation in pressurized tanks to produce the bubbles we all know and love. Prosecco is predominately made up of the Glera grape, while some other varieties such as Pinot Bianco, Pinot Grigio and indigenous Verdiso can be incorporated in. Though not common outside of Italy, Prosecco can be a still wine. It is also classified into two different categories for sparkling: Frizzante, gently sparkling, or Spumante, fully sparkling.
Prosecco tends to have fruit and flower aromas and range in sweetness from Brut to Demi-Sec. They have a balanced palate of citrus fruit, apples and pears matched with lively acidity. This wine is supposed to be enjoyed young – it can be an aperitivo or paired with your favorite pasta dishes and seafood.
Like Champagne, Prosecco is a protected name and only certain areas of Italy can label that as such. In 2009, a generic Prosecco DOC was created, for all areas producing this sparkling wine in Veneto and its neighboring region Friuli Venezia Giulia. Wines under the Prosecco DOCG umbrella have stricter regulations, thus yielding smaller production. Prosecco has three distinctive DOCGs: the Prosecco Conegliano Valdobbiadene Superiore DOCG is made from Glera grapes exclusively in the 15 communes of the Conegliano Valdobbiadene zone. The Prosecco DOCG Rive grapes come from steep slopes within the Conegliano Valdobbiadene zone showing the diverse expressions of the area. Often Rive wines have grapes that are grown in one single commune to showcase the distinct terroir. Finally the Prosecco DOCG Superiore di Cartizze is comprised of 107 hectares of vineyards in the shape of a pentagon along the steep hillsides of San Pietro di Barbozza, Santo Stefano and Saccol, within the Valdobbiadene commune.
Valpolicella – Diverse Ranges of Reds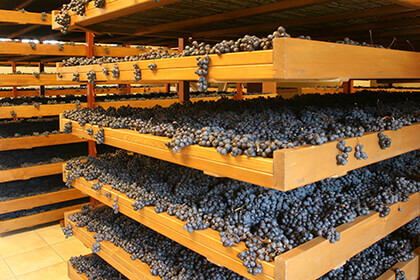 Valpolicella, translated as "the valley of many wine cellars," is a well-known red wine that comes from the Veneto region. The Corvina, Corvinone, Rondinella and Molinara grape varieties are used to make a range of Valpolicella from a lighter dry wine to a powerful an intense well-known counterpart, Amarone. There are five differing styles of Valpolicella that guaranteed to please every palate preference:
- Valpolicella Classico DOC: best drunk young, this lighter bodied wine has notes of cherry and subtle hints of earthiness. Due to its lighter body it can be chilled for a great alternative wine in the summer.
- Valpolicella Classico Superiore DOC: a medium bodied red wine with more concentrated cherry, mineral and licorice notes. This wine must be aged for a year before released.
- Valpolicella Superiore Ripasso DOC: this full bodied, jammy style of wine is made by combining the newly fermented juice with amarone pomace, which is the flavorful grape pulp and skins leftover from making Amarone. The juice is left in contact for a few weeks to take on some of the extra color, tannins and flavor from the pomace.
- Amarone della Valpolicella DOCG: Amarone is most known for the distinct style of winemaking where a portion of grapes are left on the vines to achieve extra ripeness. Once harvested, those very ripe grapes go through a process called appasimento, where they are laid out on mats for three to four months to dry and concentrate their sugars. The grapes will dry and raisinate and lose nearly a third of their weight, mostly water, to create a thick and syrup texture once crushed and fermented. Amarone must be aged for two years or more before being released.
- Recioto della Valpolicella DOCG: like Amarone, this style uses the ripest grapes that dry out for several months to create a concentration of sugars. Unlike Amarone, where all sugars are converted into alcohol to create a dry wine, fermentation is stopped for Recioto della Valpolicella before all sugar is converted into alcohol, making this a sweet style.