A Brief History of Wine in Tuscany
The history of winemaking in Tuscany can be traced back almost three millennia, to when the Etruscans first settled in this region in the 8th century BC. Ancient archaeological evidence in the form of amphora remnants point to the export of these wines to southern Italy and Gaul just a century later. After the fall of the Roman Empire and during the Middle Ages, monasteries took over the production of wines in this region, leaving behind several written manuscripts about the wine production process. Eventually, a sharecropping system known as mezzadria was developed and several landowners began producing wine to sell to merchants in Florence. By the 14th century the consumption and trade of wine in Florence was booming, with the Arte dei Vinattieri guild regulating the business of merchants. After the Napoleonic Wars, Tuscany came under the rule of the Habsburgs. This period saw a high degree of exchange between Germany, France and Italy, with several non-Italian varietals being introduced in Tuscany. Nevertheless, three local grapes stood out for producing the highest quality wines: Sangiovese, Canaiolo and Malvasia.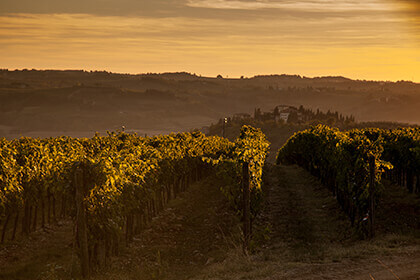 The Sangiovese varietal first emerged in the early 18th century, producing fantastic wines, especially in one particular triangle of land between Radda, Greve, Gaiole and Castellina. This historical area, now known as Chianti, became so important to the local economy of Florence and Siena that in 1903 an association was formed to protect its quality.
The Geography, Climate and Soil of Tuscany
Bordered by Liguria to the northwest, Emilia-Romagna to the north, Umbria to the east, the Tyrrhenian Sea to the west, and Lazio to the south, Tuscany is the fifth largest region in Italy, home to 11 DOCG and 41 DOC appellations, along with the highly praised Super Tuscans classified IGT. While the coastal areas - Montecucco, Monteregio di Massa Marittima, Montescudaio, Sovana – enjoy a warm, temperate climate, the more famous hilly inland appellations of Tuscany exhibit a much higher variation of day and night temperatures, lending fantastic balance in the aromatic expression to the wines. Sangiovese, in particular, achieves its best expression when the grape received more direct sunlight, which is why many of the region's vineyards on hillsides at altitudes of 150-500 meters.
The Tuscan region is home to a wide array of different soil types, dominated by sandy clay and rocky clay. The iron present in sandy clay soil is believed to lend a rich colour to wines, which tend to be robust, structured and elegant. The Chianti Classico region is particularly well known for the diversity of soils found within one area, ranging from a higher concentration of clay deposits in the northern communes (including Greve), and harder, stonier soils near Gaiole in the south.
A Patchwork of Appellations in Tuscany
Expanding over a total of 11 DOCG and 41 DOC appellations, Tuscany is home to some of the best known wine-producing areas of Italy.
Chianti Classico DOCG
Among the many viticultural zones within Tuscany, perhaps the most prestigious is Chianti, producing well-structured, elegant Sangiovese wines with a distinct red and black cherry character, aromas if violets, and notes of herb and spice. The Chianti DOC title was created in 1967 and in 1984 the appellation was promoted to a DOCG level. In 1996, the Chianti Classico area received separate DOCG status. Easily recognizable by the black rooster gracing its label, Chianti Classico DOCG wines come from a historical viticultural area between Siena and Florence. These wines must contain at least 80% Sangiovese, with the rest consisting of a blend of native grapes (Canaiolo or Colorino) or international varieties (Cabernet Sauvignon or Merlot). Chianti Classico wines can further be divided into 3 levels of quality: Annata (the most standard), Riserva (aged for 24 months before release) and Gran Selezione (single-estate wines, aged 30 months).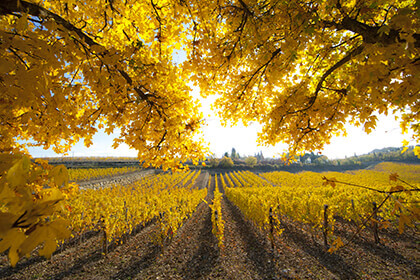 Brunello de Montalcino DOCG in Tuscany
The ancient hilltop village of Montalcino is home to a 100% Sangiovese wine known as Brunello, which translates as "little dark one," a local nickname for the grape from which it is made. In the early 19th century, Ferruccio Biondi-Santi pioneered the practices of vinifying Sangiovese grapes separately from other varieties, eliminating second fermentation and allowing the wines to mature in wooden barrels for over a decade. This led to a livelier, fresher and fruitier style of wine, which gained popularity by the 1950's. During this time the production of Brunello spread from the Biondi-Santi estate to several others in the area. In July 1980, Brunello (together with Barolo in Piedmont) became the Italy's first DOCG. Wines under this classification must be made exclusively of Sangiovese. They must be aged for two years in oak barrels, followed by 4 additional months in bottle before release (5 years after the harvest). Classic Brunello di Montalcino wines tend to be very elegant, garnet-coloured wines with a rich bouquet of berries, vanilla and spice with earthy touches. These wines are made to age, often for at least a decade.
Vino Nobile di Montepulciano DOCG in Tuscany
Between the Ocria and Chiana Rivers, the hills of Montepulciano are planted up to 250-600 meters in altitude with vines of Sangiovese, used to produce another classic Italian red wine – Vino Nobile di Montepulciano. Wines from this region have a long history of being favoured by the local aristocracy of Siena as well as Pope Paul III. In the 19th century, they were classified as Chianti, until this appellation was given its own DOC classification in the 1960's, upgraded to DOCG in 1980. Wines labelled Vino Nobile di Montepulciano must contain at least 60-80% Sangiovese (locally known as Prugnolo Gentile), which can be complemented by certain other local varietals, like Canaiolo and Mammolo. These wines are aged a minimum of 24 months, of which at least 12 must be in oak barrels. Maroon-red when young, fading into a brick-orange shade with age, classic Vino Nobile di Montepulciano wines exude aromas of dark cherry and plum, along with ripe strawberry and tea.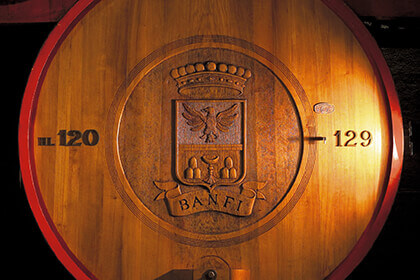 The Toscana IGT and Bolgheri DOC
You might have also heard mention of "Super Tuscan" wines and may be wondering how these fit into the puzzle of Tuscany's web of appellations. When the DOC system was introduced to Italy in the 1960's it met with plenty of backlash from producers who insisted that the rules were too restrictive. During the late 1960's some of these rogue producers began producing wines of very high quality, which purposely did not follow the rules of the appellations and labelling them "Vino de Tavola," the lowest classification. But when these wines (among them the legendary Sassicaia) started gaining international recognition as Super Tuscans, the Toscana Indicazione Geografica Tipica (IGT) category was added to the Italian classification system. Toscana IGT wines are required to be labelled with the vintage, producer name and the region of origin (Tuscany). This category has recently seen massive expansion, and has freed non-traditional winemakers up from the strict regulations of the DOC/DOCG system.
Bolgheri on the Tuscan coast, near the Tyrrhenian Sea, is a region that, in 1978, earned tremendous international recognition when the 1972 vintage of a wine called Sassicaia (produced by Tenuta San Guido) received a higher score than many classic big-name Bordeaux wines. The gravelly soil with patches of clay found on this coastal region inspired Marchese Mario Incisa della Rocchetta to plant Cabernet Sauvignon and Cabernet Franc (Bordeaux-style) rather than the ubiquitous Sangiovese, and in doing so settle for the Vino de Tavola classification. Since then, Bolgheri was awarded its own DOC classification and the legendary Sassicaia, responsible for bringing so much international attention to Super Tuscan wines and pushing for the creation of the IGT classification, received its very own DOC as well, becoming the only DOC appellation specific to a single estate. Today red wines of the Bolgheri DOC can be made entirely from Cabernet Sauvignon, Cabernet Franc or Merlot, or from a blend of the latter with Syrah or Sangiovese. The crisp and refreshing white wines of Bolgheri are commonly made with Vermentino, Sauvignon Blanc and Trebbiano Toscano.