The art of drinking a glass of white wine starts with admiring the lemon-tinted masterpiece swirling around the bottom of the bowl of your glass. You give it a sniff and then a sip that reveals the palette the winemaker has used to blend together the perfect hues of terroir and personal style to give you drinkable art – to be admired, enjoyed and remembered. There is nothing more artful than a glass of white wine whether it's a lean, mineral Chardonnay or a perfumed, creamy Viognier or a grassy, lip-puckering Sauvignon Blanc. With all of these choices, how can you find the best white wines for you? Well, let's take a tour of some of the most well-known wine regions throughout the world to start your tasting adventure to find your favourite whites wines.
Burgundy: The Crème de la Crème of Chardonnays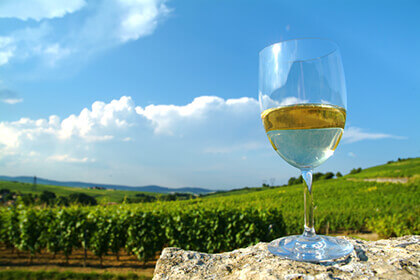 For winemakers and consumers, nothing beats Burgundy whites – the gold standard of the world's most popular white grape variety. The region has been in love with wine since the arrival of the Romans back in the first century AD. Afterwards, the Cistercian monks took winemaking to another level with their wines for the local aristocracy. As one of the most terroir-driven wines in the world, winemakers have mastered the art of expressing the most subtle variations in the soil. The Grand Cru and Premier Cru are from designated vineyards with Grand Cru wines at the top of the pyramid. These Grand Cru and Premier Cru vineyards are mostly found in Chablis and the Côte de Beaune. In the northernmost part of Burgundy, we come across Chablis with its cool climate and unique Kimmeridgean soil made up of limestone and marine fossils. This imparts a lean, mineral character on the wines with tart fruit aromas and flavours like lime zest, Granny Smith apple and under-ripe pear. You can also find subtle notes of white flowers, yogurt and oyster shell brininess. However, when you come across a Chablis Grand Cru, you may be surprised that there's quite a bit of oak in them that give them a richer style like those from the Côte de Beaune. Moving further south, we hit the crème de la crème of the Burgundy whites, the Côte de Beaune. The top appellations, among others, include Meursault, Montrachet, Charlemagne, Corton-Charlemagne and Chassagne-Montrachet. Here, you'll find the region's most powerful and intense expressions of Chardonnay with fleshy fruity aromas and flavours from yellow fruits like apple, pear and plum with earthy notes of truffle. The expertise Burgundy winemakers have with new oak shines through in these wines. The well-integrated oak adds vanilla, cinnamon and toasted almond to the bouquet that will leave you wanting more of this formidable golden nectar.
Bordeaux: White Bordeaux in the Limelight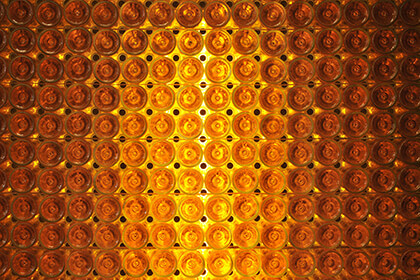 Bordeaux may be world-renowned for its red blends, but you can also enjoy White Bordeaux that usually include Sauvignon Blanc, Sémillon and Muscadelle. Lesser-known varieties like Colombard and Ugni Blanc pop up every now and then, but for the most part, Sauvignon Blanc and Sémillon reign over these blends. These blends offer two main styles. Those that are light and fruity come from Entre-Deux-Mers and those that are rich and creamy hail from Pessac-Léognan. The wines from Entre-Deux-Mers wines are made with Sauvignon Blanc, Sémillon and Muscadelle with Sauvignon Blanc making up most of the blend. These vines thrive in the clay-limestone soil on the appellation's limestone plateau. There's a freshness to these wines that especially comes from the clay. These citrusy whites with refreshing acidity and a wet stone minerality can also offer grassy, passionfruit or honey notes. The wines from Pessac-Léognan are mostly made from Sauvignon Blanc and Sémillon grapes that thrive in sandy soil, but they'll have a greater amount of Sémillion, which gives them a richer, somewhat oily, texture. You'll get flavours like baked apples and pears with notes of orange zest and fig. Since they're often aged in oak to give them complexity, you'll find they also have a certain creaminess to them. We can't leave Bordeaux without mentioning the sweet wines from Sauternes, the most expensive wines to produce in all of Bordeaux! The grapes for these wines have botrytis, or noble rot, and this makes them lusciously sweet wines with flavours like peach, pineapple and orange zest along with vanilla, butterscotch and honey notes. Sémillon makes up a large part of these zines since its thin-skin makes it an easy target for botrytis. Sauvignon Blanc offers acidity and Muscadelle gives a perfumed, floral character. Though the Bordeaux red blends get most of the spotlight, White Bordeaux is just as worthy of the limelight.
Loire: Smoky Flintiness with Sauvignon Blanc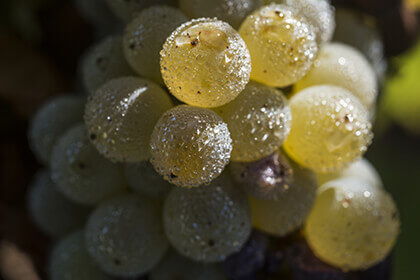 The Loire Valley conjures up images of rolling, lush, green hills crisscrossed with meandering rivers along which fairy tale castles dot this bucolic landscape. This valley of a thousand castles is also home to unparalleled expression of Sauvignon Blanc, also known as Blanc Fumé (smoky white). It goes without saying the Sancerre and Pouilly-Fumé are the region's top ambassadors of the variety. Although these two appellations are neighbours and have the same semi-continental climate, their expression of these racy, refreshing wine couldn't be more different. The secret to these contrasts rest below the surface in the soil. Sancerre rests on the left bank of the Loire River on the eastern side of the region with its vines growing in three different types of soil: terres blanches (Kimmeridgian clay), caillottes (gravel with limestone) and silex (flint). This creates the region's benchmark Sauvignon Blanc that has become renowned for its chalky minerality. Swirling it around in your glass will reveal citrus, grassy and gooseberry aromas, and then a single sip hits you with its hallmark crisp acidity. Hopping to the right bank of the river, we land in Pouilly-Fumé where the vines root themselves in soils that are similar to those on the left bank. It'd be a challenge for even the best tasters to tell the difference between a Sancerre and Pouilly-Fume on the palate, but if you take a deep whiff of a Pouilly-Fumé, you'll most likely notice a smoky gunflint aroma – the trademark of this white wine – that comes from vines grown in chalky, flinty soil. These Sancerre whites are no doubt a benchmark for what you should come to expect from a Sauvignon Blanc.
Alsace: The Four Nobles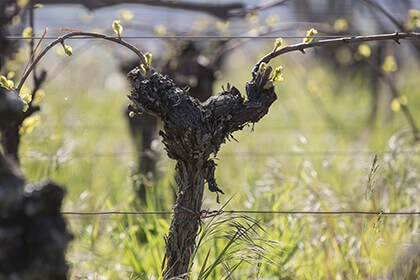 Heading up to the French-German border, we find ourselves in Alsace where the overwhelming majority of all the wines are white. 92% of Alsace AOC wines are still white wines, but don't forget there's also Alsace Grand Cru OAC wines that come from limited vineyard plots and Crémant d'Alsace AOC that cover sparkling white and rosé wines. The Vosges Mountains that flank the region's western side provide a rain shadow and protect the vines from thundering rainstorms. The semi-continental climate with a sunny, hot, dry growing season allows the grapes to slowly ripen to give wines fruity wines with a tinge of refreshing acidity. The whites are known for being aromatic, floral and spicy, and the four main "noble" varieties include Riesling, Pinot Gris, Muscat and Gewürzrtraminer. Riesling and Muscat are usually made in dry styles while Pinot Gris and Gewurztraminer come in slightly sweet styles (off-dry). You'll also come across sweeter styles like Vendanges Tardives (VT) and Sélection de Grains Nobles (SGN). VT, or Late Harvest, grapes hang on the vine until they start to dry out. This is called passerillage and it concentrates the sugars in the juice, so you usually get a sweet wine with these grapes. SGN, or Section of Noble Berries, are grapes that have been affected by noble rot. These grapes will give a sweeter style than VT and will have richer, more concentrated flavours. Keep in mind that it's quite rare to find oak-aged wines – all that spiciness and richness comes from a perfect balance of ripe fruit and alcohol. When it comes to the Grand Crus wines, they usually have higher alcohol levels, so the fruit will be much riper and flavours more concentrated. These Grand Crus drip with notes of honey and reveal smoky notes as they get up in years. Schlossberg and Osterberg are well-known Grand Cru plots, but don't forget that some outstanding producers choose not to use the Grand Cru classification.
Rhône Valley: It's all about the Blends
Heading down to the south, our next stop on our white wine tour is the Rhône Valley, the third-largest wine growing region. It's considered one region, but it's often divided into two separate parts since the climate and grape varieties are different. The Northern Rhône is just over 60 kilometres long with a continental climate, so the summers are hot and the winters are cold. The incredibly steep, terraced hillsides are home to three main white varieties: Viognier, Marsanne and Roussanne. The tiny appellations of Condrieu and Château-Grillet produce outstanding dry and off-dry Viognier styles. The nose can offer a complex bouquet of peach, tangerine and honeysuckle with notes of creamy vanilla from oak ageing. Viognier's signature feature is its slight oily texture. You'll also encounter that most white wines are blends with Marsanne and Roussanne, As the dominant partner, Marsanne gives colour, body and concentrated fruitiness while Roussanne gives the wine its intensely aromatic bouquet, delicacy and elegance. Along the "Roasted Slope" with its granite soils and sun-drenched slopes, Hermitage, Crozes-Hermitage, St-Joseph, and St-Péray make some of these white blends in the north. Keep in mind that these three varieties grow alongside Syrah, the main red grape in the Northern Rhône, and they are often blended into Syrah wines in tiny amounts to add smoothness and floral aromas. In the south, the white blend from Châteauneuf-du-Pape is hailed as one of the rarest and most renowned wines from the region. The most common grapes that make up this crown jewel are Grenache Blanc, Roussanne, Clairette Blanche and Bourboulenc. Grenache Blanc loves the sun, so the grapes ripen to high sugar levels, and this gives the wine its high alcohol. Clairette Blanche and Bourboulenc contribute freshness and citrusy flavours while Rousanne offers peach notes. For texture and tannins, winemakers can also add Clairette Rose. Though these blends are rare, they're definitely worth seeking out for all their full-bodied, blended richness.
Provence: Basking along the Mediterranean with Cassis
Known for its sunny disposition and endless fields of lavender, Provence is also noted for its captivating white wines. Its Mediterranean climate allows for plenty of sunshine that give mild winters and very warm summers. There's no need to worry about all that sunshine making the grapes overly ripe because the gusting Mistral wind roars down from the north. In the midst of the scorching summer days, this wind cools down the grapes; and after the rains, it dries everything up and keeps the vineyards free from pests and disease. When it comes to the soils, there is an incredible mosaic across the region. In the west, we find limestone outcrops, and to the east, we discover schist (granite) and volcanic soils. As we go further inland, we unearth clay and sandstone. These soils cover numerous mountain ranges, which give different altitudes for the vines from gently rolling hills to sheltered valleys. From all of these different soils, we can find an abundance of garrigue or maquis, which are wild shrubs made up of plants like juniper, lavender, rosemary and thyme, and they all play a role in influencing the character of the white wines. With these different climates, altitudes and soils, it's no wonder Provence is home to a vast number of varieties. You'll find Rolle (Vermentino), Ugni Blanc (Trebbiano), Bourboulenc, Clairette, Marsanne, Roussane and Grenache Blanc dotted across the landscape. You'll also come across a few vineyard plots of Sauvignon Blanc and Sémillon. One of the most renowned regions for its whites is Cassis that basks in the sun along the Mediterranean coast. Marsanne and Clairette are the main grapes, so these elegant wines display intense citrus, peach and honey aromas with hints of dried herbs. The proximity next to the sea also gives these wines a tinge of salinity. Other appellations making white wines include Bellet where Rolle takes up most of the vineyards. Interestingly, this is the only AOC in Provence that can use Chardonnay. Provence's newest appellation, Pierrevert (1998) is where you can discover whites like Grenache Blanc, Rolle, Roussanne and Marsanne. There's no doubt that neighbouring Rhône has influenced the grape varieties and blends in Pierrevert.
Languedoc: Neptune and his Picpoul
It's time to head to the long sandy beaches along the Mediterranean coast of France and enjoy the whites from Languedoc, a region that extends all the way from the Rhône Valley in the east to Spain's border in the southwest. Its size with 224,000 hectares of vines makes it the largest wine producing region in France. Languedoc is best described as a patchwork of vineyards since so many grape varieties grow together across a patchwork of terroirs that range from rock sand to thick clay. It's no surprise that the region is well-known for its blends. For the whites, one of the most popular blends are those made with Picpoul and Grenache Blanc. Picpoul is almost always used as a blending grape, but it does pop up as a single varietal wine. The Picpoul de Pinet appellation is one of Langudoc's few white wine appellations devoted to making this zesty white wine variety. The name itself means "lip stinger", which refers to the naturally high acidity in the grape. These wines have lemon and saline notes with hints of white blossoms and wet stones. On the palate, they can range from light to medium-bodied with moderate alcohol, and they'll always be bone dry. Not only do the flavours stand out, but the emerald green bottle embossed with the Cross of Languedoc does as well with its long neck that tapers into a thin curved body. Known as the "Neptune" bottle, the appellation specifically designed this bottle so that it would stand out among the ocean of other well-known white wines. For those who are fans of Sauvignon Blanc or Pinot Grigio, Picpoul wines can be added to your list of favourite aromatic whites.
Corsica: Vermentinu from the Island of Beauty
We've finished out time on the French mainland, so now it's time to do some island hopping down to the south to visit Corsican white wines. These wines come from vines that grow in a mosaic of climates, elevations, and soils. The climate varies from continental to maritime so that means there are perfectly warm days with just enough rain during the growing season, along with some salty air blowing through the vineyards. Looming over the vineyard landscape is Monte Cinto, the island's highest peak that also plays a part in influencing the climate. There is a vast array of soils that include granite, schist and limestone. From these soils sprout maquis like in Provence and these find their way into the aroma and flavours of Corsican whites. The main white variety is Vermentinu (or Vermentino in Italian or Rolle in southern France), which the Phoceans most likely brought over from Greece. Vermentinu grows all over the island, and tastes quite differently to the mainland types. From these wines, you can expect a voluminous and mineral mouthfeel with floral and honey aromas. There are indigenous varieties that are a source of pride among Corsican winemakers. They have made it a priority to recover these varieties that many believed had gone extinct. One such variety is Biancu Gentile with its very fragrant aromatic profile and high sugar levels. Yves Leccia, winemaker at Clos Canarelli, rediscovered this variety and now makes a varietal wine from his very sparse plantings that give a soft citrus, complex white wine.
Germany: Impressionable Rieslings
We've finished up our trek throughout white wines in France, and now we'll take our journey to the land of Riesling, and of course, this could only be Germany where its flagship variety is world-renowned. In the past, Riesling had a reputation for only being a "sweet" wine, but there are now estates making more dry Rieslings. The variety grow throughout all of Germany's thirteen wine regions, known as Anbaugebiete, each of which offers a slightly different take on the variety. Mosel and Rheingau are two of the country's most distinguished regions. Mosel sits on the border with France and Luxembourg and is quite chilly with its continental climate. The best sites are on the very steep south-facing slopes that rise up from the meandering Mosel River. Some of the hillsides reach a 70% gradient! The berries can struggle to ripen because of the cool climate, but the multi-coloured blue, red and grey slate topsoil retains heat to keep the vines warm. Hand-harvesting is necessary because of the steep slopes, but this practice usually gives wines with clean, pure flavours, and this is Mosel's signature Riesling profile. These Rieslings are light to medium-bodied, and highly aromatic with floral, citrus, peach and honey notes along with the hallmark scent of petrol. They often have a slightly sweeter style to balance out the marked acidity. Heading east, we come to Rheingau with its south-facing slopes along the Rhine River where the vines bathe in sunshine. The forest-capped Taunus Hills protects the vineyards from cold, damaging winds while the river's reflective surface helps keep the vines warm. Though the region is small, there's a medley of soils, including the usual suspects like chalk, sand, gravel, clay and slate, and a few others like loess and quartzite. Here, the dry Rieslings are spicier with more pear and mineral notes than those from Mosel. They are rich in flavour with pronounced acidity, yet elegant at the same time. If you are looking for high quality Rieslings, wines from VDP (Verband Deutscher Prädikats) estates will be among the best Germany has to offer. This is an association of about 200 estate wineries that have to meet slightly more stringent standards than German wine law. Wines will have the association's logo usually on the capsule of a wine bottle.
Austria: The Green Wine of Veltlin
It's off to Austria where the hills are not only alive with the sound of music, but with flourishing Grüner Veltiner vines. One out of every three vines in Austria is a Grüner Veltiner one! If you're an admirer of Sauvignon Blanc, you'll surely love Grüner Veltiner that gives dry white wines with its high acidity. The name itself means Green Wine of Veltlin – Veltlin now belongs to Italy, but it was part of Austria in the lower Alps in the 1600s. Grüner Veltiner wines are very citrusy with flavours like lime, lemon and grapefruit, along with green and herbaceous notes. However, the true signature of this wine is its lip-puckering acidity. The lighter styles have this high acidity with lime flavours. The richer styles reveal layers of lemon and honey with nutty creaminess, but they still keep that hallmark acidity. The finest Grüner Veltiner wines come from the south-facing terraces on the banks of the Danube in Wachau, just west of Vienna. Adjacent to Wachau, Kamptal and Kremstal offer fine examples, and Weinviertel, which encompasses the area north of the capital, is also renowned for its Grüner Veltiner wines.
Switzerland: Truly Terroir-Driven Chasselas
Travelling to Switzerland, we come to neutral territory, which means Switzerland isn't answerable to Eurorpean wine law since it doesn't belong to the European Union. However, it has developed its own appellation contrôlée in recent years. Its close proximity to Alsace and Germany means that Riesling, Pinot Gris, Pinot Blanc and Gewürztraminer show up in many Swiss white wines. Chasselas, however, is Switzerland's crown jewel of the whites with a name that changes from region to region. In the German-speaking north, it's called Gutedel and in the French-speaking south-west, it goes by Fendant, Dorin or Perlan. The variety's favourite place to put down roots is in the Valais on its terraced slopes which have stone walls encircling them. These walls re-radiate warmth to the vines at night, especially since it can get quite chilly at elevations up to 1,150 metres. Yet the sunny, dry climate and the diversity of soils bring a fascinating personality to Chasselas. Since it's quite neutral when it comes to aromas, the variety takes all of its character from the terroir to give it freshness and minerality. Its light body with low acidity make it a delicate wine, but the simplicity and elegance of it make it one of Switzerland's most fascinating white wines.
Italy: Pinot Grigio's Glacial Slopes of Alto Adige
Our white wine adventure now takes us up to the soaring slopes of Alto Adige in Italy's northeast corner. You'll hear the word schloss when visiting winery estates, and it simply means castle or château in German. This is due to the region's multi-lingual heritage that include three official languages: Italian, German and Ladin. Although the region is quite small with just over 5,200 hectares, the climate and soils are indeed diverse. The region is blessed with plenty of sunshine throughout the year, and with wide temperature swings between day and night, which helps gives elegant wines with beautifully balanced flavours and acidity. The soaring snow-capped Dolomites keep the vines safe from cold, blasting winds where the vines cling to the slopes of the glacial valley on the southern side of the mountains. The most popular whites are Pinot Grigio, Gewürztraminer, Pinot Bianco, and Chardonnay, but Sauvignon Blanc is also gaining in popularity. Pinot Grigio with its natural high acidity displays lemon and peach aromas along with slight notes of honey and almond. However, it isn't as aromatic as Gewürztraminer, which has fairly low acidity with incredibly aromatic lychee, honey and ginger notes. Interestingly, Gewürztraminer got part of its name from Tramin, a village in the region. Gewürz means spice or perfumed, so the full moniker means spice Traminer or perfumed Traminer.
Greece: Basket-Weaving with Assyrtiko
It's time to board a ship and sail our way to the island of Santorini in the Aegean Sea where we'll be greeted with whitewashed, blue-door homes that overlook a crystal-clear, sapphire blue ocean. This distinctly Mediterranean climate has warm temperatures with low rainfall, but the growing season is quite humid. It is no surprise that the poor soils consist of volcanic black ash and porous rock since Santorini is essentially the result of an ancient volcanic eruption. Interestingly, the porous volcanic soil absorbs the mist from the sea fogs at night and then releases the moisture during the day so that the vines have enough water to survive. These soils also protect the vines from the dreaded phylloxera pest since they don't have any of the clay needed for the louse to survive, so some of the island's vines are 250-years-old. The blasting ocean winds can damage the vines, but the grape growers use a unique bush-training system in which the vines are woven into ground-hugging baskets as they grow. This koulara method results with the grapes growing inside the basket facing towards the ring. Not only does the basket protect the grapes from the harsh winds, but the leaves provide shade so that the grapes don't get a sunburn from the blazing afternoon sun. Inside these baskets, we find Santorini's flagship white variety, Assyrtiko (pronounced as ah-SEER-tiko), which give fresh, aromatic wines with their trademark mouth-watering acidity. Most of these unoaked wines offer citrus flavours like lime, lemon zest and grapefruit with a touch of beeswax. However, there are a few lightly oaked versions that give notes of toast, yellow apple and peach. You might also notice that Assyrtiko wines have a mineral and slightly saline character. This special quality is actually from the salty sea spray that covers the grapes in the vineyards. These bone-dry marvels with crisp acidity and soothing minerality will leave you only wanting for more during the sizzling summers.
South Africa: Bridging the Old and New Worlds
Although South Africa is considered part of the New World, but it's definitely no beginner when it comes to making wine. The first vineyards were planted in the mid-1600s and soon after the renowned Vin de Constance, a sweet wine made from Muscat Blanc à Petits Grains, enjoyed immense popularity throughout Europe. Nowadays, South African white wines bridge the Old World and New World to offer wines with the characteristic New World ripe fruit from the vineyard, yet at the same time, Old World restraint in winemaking. South Africa's flagship variety is Chenin Blanc. Not surprisingly, it's the world's biggest producer. For centuries, it was called Steen until it was discovered that it was actually Chenin Blanc in the 1960s. It's an incredibly versatile grape that can produce high-quality wines across multiple styles despite its past reputation as a variety never destined for fame, but only for large-production and brandy distillation. South Africa's terroir shines through in Chenin Blanc. Citrus notes with refreshing acidity typify cool-climate wines while ripe melon and apple notes with a fuller mouthfeel represent the warmer areas. Chenin Blanc vineyards next to coastal areas accent the wine with hints of salinity, those in granite soils give a flinty mineral personality, and those in clay-rich soils offer riper fruit and rounder textures. Chenin Blanc can also have a herbaceous personality, and this comes from vineyards located near fynbos – the shrublands and heathlands of the Cape Winelands that surround Cape Town.
Australia: Down Under with Chardonnay
It's time to go all the way down under to where you can find kangaroos hopping through vineyards and lounging under the vines. You might think they'd be munching on grapes all day long, but they'll only do this during droughts when they can't find enough water. All of the main white international varieties like Chardonnay, Sauvignon Blanc, Riesling and Semillon are grown throughout the country. Keep in mind that you'll often find the name of the variety on labels, and this variety has to make up 85% of the wine. Chardonnay is synonymous with Australian white wine, and Margaret River, the major wine region in southwest Western Australia, makes some of the best Chardonnays. Known as Australia's "Bordeaux", Margaret River produces only 3% of the country's entire grape production, but it makes up 20% of Australia's premium wine market. No other region has such a maritime-influenced climate with one that is similar to Bordeaux's, at least in a dry vintage that doesn't have too much rain. There isn't one typical Margaret River Chardonnay style: you'll find those that are elegant with a refined use of oak or those that are more powerful with intense, rich flavours. Yet, for many winemakers, Burgundy is the peak of perfection for a Chardonnay wine style with an acidity that drives the flavours from the attack to the finish on your palate. These winemakers desire to give a sense of place that allows the fruit and the terroir to come through in the wines. Many winemakers use the term chameleon variety instead of terroir with a similar meaning: when you place Chardonnay in a particular environment, it will take on the shape of that environment. Mornington Peninsula just south of Melbourne is a cool-climate region where you'll find beautiful Chardonnays as well. The vines are well-ventilated due to the strong winds coming off the surround waters, so the grapes remain healthy during the growing season free disease. The diverse range of soils is just as complex as what you would find in Alsace with everything from yellow duplex to red volcanic soil to sandier soils. The Chardonnays here are bright, elegant and with refreshing acidity partly due to the chilly climate. You'll often find these have grapefruit, peach and nectarine flavours with subtle hints of oak. Though the Chardonnays get a lot of the fame and glory, Semillon, is one of Australia's unsung heroes. It's citrusy and grassy in its youth, but develops beautiful honeyed, toasty notes with age, especially those coming from the hot and humid Hunter Valley. Unlike the rest of the world, this style is unique to Australia, and even the pronunciation is different – SEM-eh-lon in Australia and sem-ee-yon in other regions.
New Zealand: Land of White Clouds and Sauvignon Blanc
We've finished up our whirlwind tour of a few Australian whites, and now it's time to head to Aotearoa, or the "Land of the Long White Cloud" – the Maori name for the New Zealand. This green, lush, mountainous country only makes 1% of all the wine in the world, but it is indeed the capital of Sauvignon Blanc. Just over 20,000 hectares of Sauvignon Blanc vines grows across the North and South Islands that make up this small country. Even with the tiniest of sips, you'll instantly recognize a Sauvignon Blanc from New Zealand with its trademark herbaceous aromas and lip-puckering high acidity. Fruit flavours range from the citrusy like lime and grapefruit to the tropical like mango, pineapple and guava. You'll also find herbal flavours, such as lemongrass, green bell pepper, and fresh-cut grass. Though Sauvignon Blanc vineyards can be found on both islands, the majority of them are in the northern part of the South Island in the world-renowned Marlborough region. It's cool climate that gets plenty of sunshine and has a large temperature differences between day and night differences are the keys to producing grapes that show Sauvignon Blanc's strong varietal expression and give it its high acidity. The glacial, free-draining sandy loam over stony gravel soil also provides ideal growing conditions for the flagship grape. Sauvignon Blanc wines from Marlborough represent New Zealand's benchmark style with it incredibly intense gooseberry, passion fruit, and grassy aromas.
As our tour through some of the most acclaimed white wine regions of the world comes to an end, keep in mind the words of Luis Fernando Olaverri,"Wine is the only art work you can drink". From the Chardonnays of Chablis to the Rieslings of the Mosel to the Sauvignon Blancs of New Zealand, each and every one is truly an art form with terroir and winemaker coming together to create drinkable masterpieces for meaningful moments.