Mispronounced, misunderstood and even a bit underappreciated - this could be no other than the Riesling variety (pronounced as Reece-Ling). Riesling is often confused with other unrelated grape varieties that share part of its name (like Laskirizling, Olaszrizling, Welschrieling, among others). This classic variety is incredibly versatile and can be made in a wide range of styles, from bone dry to lusciously sweet. It's also one of those varieties that's remarkably good at expressing terroir and is incredibly age worthy. For it to be at its best, Riesling needs to be bottled early after cold fermentation. Malolactic fermentation and oak ageing are also often usually avoided, to allow the varietal's naturally refreshing acidity and fruity flavours to shine through in the wine.
Riesling Reigns in Germany
Riesling undoubtedly reigns over many German wine regions and German Rieslings are some of the most sought-after around the world. This variety grows throughout all of Germany's thirteen wine regions, known as Angaugebiete, each of which offers a different interpretation of Riesling. Among these regions, the Mosel Valley is home to some of the country's most favoured Riesling parcels. Riesling has an early-ripening character, so it generally doesn't perform well in hot climates, where it often ends up overripe, with flabby flavours. However, in Mosel's cool continental climate, on one of the very steep south-facing slopes that rise up from the meandering Mosel River, Riesling produces extraordinary quality. Some of the hillsides reach a 70% gradient, so hand-harvesting is absolutely necessary. The multi-coloured blue, red and grey slate topsoil here retains heat to keep the vines warm. It's this warmth that helps ripen the grapes. All of this contributes to the clean, pure flavours characteristic of the Mosel Riesling profile. These Rieslings are light to medium-bodied, and highly aromatic with floral, citrus, peach and honey notes, along with that hallmark scent of petrol. They often have a slightly sweet Riesling style to balance out the notable acidity.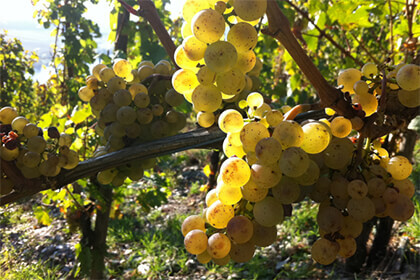 Heading east, you arrive to Rheingau, where vines bathe in sunshine on south-facing slopes along the Rhine River. The forest-capped Taunus Hills protects the vineyards from cold, damaging winds, while the river's reflective surface helps keep the vines warm. Though the region is small, there's a medley of soils, including the usual suspects: chalk, sand, gravel, clay and slate, and a few others like loess and quartzite. Here, dry Rieslings offer pronounced lemon and mineral qualities, with more body than those from Mosel. They are rich in flavour with a pronounced acidity, yet elegant at the same time. Here, some luscious, honey-like, sweet Riesling is also produced from botrytised grapes. On the label, you'll find the terms Beerenauslese (BA) and Trockenbeerenauslese (TBA) for these wines. Both are made with over-ripe botrytised berries, but those used in TBA wines are dried up almost to a raisin-like consistency. (TBA is actually short for "dried grapes that were late-picked".) And one last note before the end of our German Riesling tour: if you're looking for the best of the best, Rieslings from VDP (Verband Deutscher Prädikats) estates will be among the finest Germany has to offer. VDP is an association of around 200 estate wineries that have to meet slightly more stringent standards than German wine law. The resulting quality is remarkable.
Rieslings of Alsatian Nobility
Heading up to the French-German border, you'll find yourself in Alsace, where Riesling is king among Alsace's noble varieties. The Vosges Mountains that flank the region's western side provide a rain shadow and protect the vines from thundering rainstorms. The semi-continental climate with its sunny, hot, dry growing season, allows the grapes to slowly ripen to give fruity Alsatian Riesling wines with a refreshing acidity.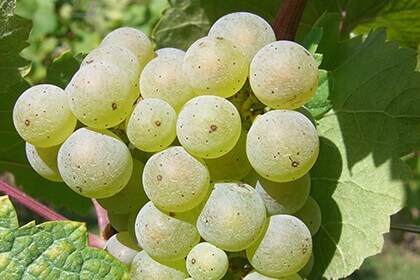 Alsatian Rieslings are elegant and dry, with flavours that can range from delicate citrus and stone fruit to richer expressions like stewed fruit and spice. You'll also come across sweeter styles, like Vendanges Tardives (VT) and Sélection de Grains Nobles (SGN). VT, or Late Harvest Riesling is made from grapes that hang on the vine until they start to dry out. This is called passerillage, a process that concentrates the sugars in the berries, resulting in a sweet wine. SGN, or Section of Noble Berries, are wines from botrytised berries. These grapes will give an even sweeter style than VT and will have richer, more concentrated flavours. When it comes to the Grand Crus wines, they usually have higher alcohol levels, so the fruit will be much riper and flavours more concentrated. These Grand Crus drip with notes of honey and reveal smoky notes as they age.
Bone-Dry Wachau Rieslings
Rivalling Rieslings from Mosel and Alsace are those from the Wachau in Austria. These are bone dry, structured wines with floral, citrus, herbal and mineral flavours. They are often richer than dry German Rieslings and steelier than Alsatian ones. Unlike German wine labels, Austrian ones are much easier to navigate, since they have a more straightforward description with the region, grape and vineyard listed on them. On Wachau Rieslings, however, you'll also find the historical terms used to describe the level of berry ripeness. "Smaragd" are wines with the ripest grapes and are richer than those labelled with "federspiel". Despite the ripeness label, these Riesling are always dry and have a characterful minerality to them.
Riesling Down Under: Australian Riesling
The warmer climate of southern Europe makes it too difficult to grow Riesling, since the variety ripens too quickly and ends up yielding flavourless berries. It's therefore a bit of a surprise to find Riesling in South Australia, since this region isn't exactly known for having the coolest temperatures. Nevertheless, you can find some of the finest Australian Riesling in the Clare and Eden Valleys just outside Adelaide. Ironically, neither of these are valleys. Clare Valley is actually a plateau that has a series of small valleys that radiate out from it in all directions, while Eden Valley is part of Barossa's high country with exposed rolling hills.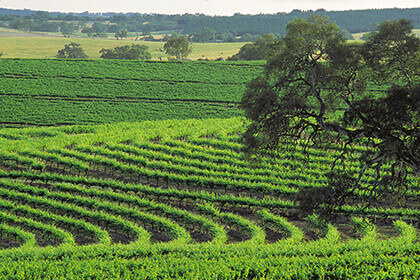 The Mount Lofty Ranges link these two regions, which elevates them to the cooler altitudes and allows for Riesling to thrive. The warm, sunny days in Eden Valley, along with cools nights, yields fragrantly aromatic Rieslings with steely acidity. A signature lime flavour and chalky minerality define these wines, which later develop kerosene notes with age. The Rieslings from the slightly warmer and further inland Clare Valley have a bolder character and similar lime flavours, but they often develop tropical fruit inflections during warmer vintages. The added heat in the vineyards also makes these Rieslings weightier with a softer, rounder acidity.
Different Riesling Wines for Different Dishes
Because of the brightness and balance of Riesling wines, they tend to be perfect accompaniments to an astonishing range of dishes. The Alsatian and Austrian dry Rieslings team up well with chicken in creamy sauces, Japanese seafood like sashimi and sushi, goat cheese salads, and onion tarts. Steely, dry Australian Rieslings pair perfectly with dishes that have "green flavours" like lime, jalapeño and tomatillo. If you have a fiery, spicy dishes like an Indian or Thai curry, off-dry Mosel Rieslings counter the heat and balance it out. Finally, the very sweet BA and TBA Rieslings can be enjoyed on their own since they have such intense, concentrated flavours. However, blue cheeses, fruity deserts and foie gras pair wonderfully with the richness of these wines. If you do decide to pair one of these Rieslings with a dessert, just make sure the dessert isn't so sweet that it overpowers the wine.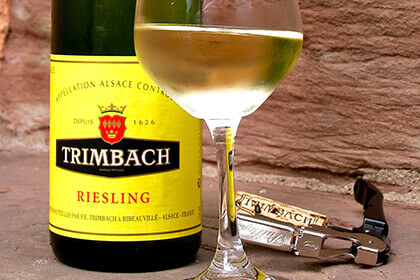 Riesling has always been one of the finest grape varieties, offering pure fruit flavours, diverse styles, faithful expression of terroir, and great versatility when it comes to food pairing. It has been through some tough times, but there's no better time than the present for a Riesling revival, and to rediscover all of its greatness.