Liber Pater's motto "beyond modes, beyond time" embody the essence of the wines. "Beyond modes" are wines that are unique and a true rarity in the Bordeaux region. Wines that reject conformity and venture out on their own to set their own trends in the Graves appellation and Bordeaux region. "Beyond time" are wines that step back into the past to rediscover the forgotten ancient varieties and their flavours of a Bordeaux of yesteryear. All of this has elevated Liber Pater wines to mythical status – one with uncompromising quality and one that is perhaps starting to redefine the classic character of the legendary Bordeaux blend.
Beyond Modes, Beyond Time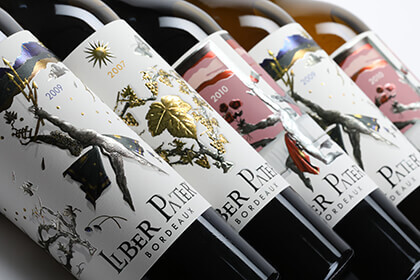 Liber Pater wine was named after the ancient Roman God, the God of vines, wine, abundance and fertility. You might be thinking that Bacchus was the God of wine, which is indeed true, but Liber Pater actually predates him. The wine's name is so fitting since Loïc Pasquet has recreated his vineyard with vines as they existed before the nineteenth century phylloxera crisis – an incredibly rare, if not mystical, vineyard in all of Bordeaux. Pasquet and his wife, Alona, moved to Graves in 2005 where they establish their vineyard in Landiras. By 2006, they had already released their first vintage. As a maverick owner-winemaker, he was determined to create wines that tasted like the ones at the time of the 1855 Classification and prior to the phylloxera outbreak with the use of forgotten varieties that prevailed in nineteenth century Bordeaux vineyards. The use of such ancient varieties has resulted in stunning wines that are unlike any other Bordeaux wine. With only a five-hectare estate and an unwavering commitment to the highest quality of berries, annual production is microscopic with only 880 bottles for his red cuvée and 280 for his white one for the 2009 vintage. Such wines of yesterday with a modern twist have earned them cult status within a very short period of time.
The Mystical Vineyard of Yesteryear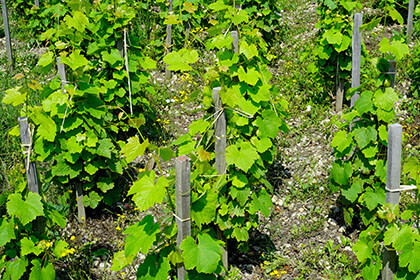 In Pasquet's own words, "My wines taste exactly like a Graves wine did at the time of the Bordeaux Wine Classification of 1855". For him to achieve this amazing feat, it all starts in the vineyard with his passion for rare grape varieties and traditional viticultural methods. His organically farmed vineyard has a fine sand and gravel terroir that typifies the Graves appellation and imparts all the uniqueness associated with Liber Pater wines. With this pebbled terrain, Pasquet works his magic with his ancestral vines to create wines that reflect the exact same tastes found in wines from the Graves in the mid-1880s before phylloxera had devastated vineyards across all of Europe – phylloxera being that sap-sucking pest that likes to feast upon the roots and leaves of grapevines. The sandy-gravel soil that anchors Pasquet's vines is essential to their survival. Phylloxera thrives in clay since it can tunnel easily around the roots of the vines and then latch onto them. In sandy soils, however, it can't tunnel through the sand since the sand collapses around that little pest as it tries to make it way to those appetizing roots. Since phylloxera shows up uninvited to most vineyards, the majority of Bordeaux estates now graft North American rootstocks onto their vines to make their vineyards resistant to the pest. Phylloxera is like the dinner guest that never leaves – there may be nothing left to eat, but he still overstays his welcome and you just can't get rid of him no matter what you do. Nevertheless, Pasquet uses ungrafted rootstocks that were native to Graves in the nineteenth century to recreate the flavours of yesteryear as a way not to alter the original personality of Bordeaux wines.
He is one of the first Bordeaux properties to plant rare varieties that were common in the pre-phylloxera era like Castet, Mancin, Lauzet, Camaralet and Prunelard. He also includes the more common Bordeaux varieties like Cabernet Sauvignon, Merlot and Petit Verdot for his reds, and Sémillion and Sauvignon Blanc for his whites. In total, there are at least fourteen varieties that flourish in his five-hectare vineyard. For the rare vines, he uses the vineyard management technique "selection massale". This is when the best vines are used to provide cuttings to grow new vines or to replace existing ones. This helps to maintain the vineyard's health and diversity, but it's a time-consuming and painstaking process. However, these new vines can convey a better sense of the terroir and they can survive for centuries, and this results in wines of superior quality – exactly what wines critics have recognized in Liber Pater wines.
The quality of Liber Pater wines can also be contributed to the extremely high density of up to 20,000 vines per hectare. When vines are planted this closely to each other, they have to compete with each other for water and nutrients, so their roots tunnel more deeply into the soil to find them. Because of this, grapes under high density planting have smaller berries, which give more concentrated fruit and flavours. This is because there is a higher proportion of grape skin to the amount of pulp, so you get intensely flavoured wines since the skin is where the flavours are most intense. Because the vines are so close together, Pasquet uses a Spanish mule for ploughing. A regular plough horse is actually too big to fit itself between the rows! He also tends to his precious vines with the greatest respect for the environment through permaculture, which is the use of sustainable and self-sufficient activities inspired from natural ecosystems, such as grass management and the use of composts and natural fertilizers. With such respect for preserving and practicing traditional vineyard methods, it's no surprise that Liber Pater wines have organic certification from Ecocert. Once harvest time rolls around, the yields end up being often the lowest in all of Bordeaux. In 2009, the berries produced only 15 hectolitres per hectare while the yields for 2010 and 2011 were even lower at just 10 hectolitres per hectare!
Microvinification for Treasured Wines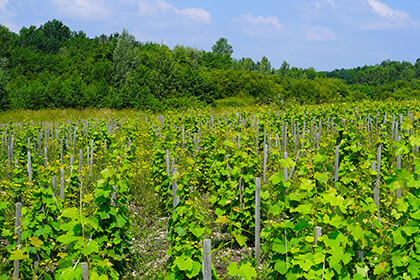 The demanding work undertaken in the vineyards continues in the winery where Loïc Pasquet goes through a labour intensive process to make his treasured Liber Pater wines. After sorting, he uses microvinification – winemaking on a very small scale. Since Pasquet is working with both small yields and rare varieties, there isn't any room for error during winemaking, so microvinification allows him to vinify in small batches so that he can carry out experiments under controlled conditions, which is the case when working with such rare grape varieties. Fermentation takes place in new French oak barrels, and these come from two of France's renowned cooperages, Cadus and Remond. Maceration is also a lengthy period that can last up to sixty days. The utmost attention and precision needed for this winemaking process accords Liber Pater wines with their mystical status.
The Mystical and Transcendental Cuvées from Liber Pater
Just like an artist, Loïc Pasquet designs his cuvée "collection" each year and keeps only the best in his portfolio. Only the very best vintages make the cut. The estate actually didn't produce wine in 2008, in 2012 and in 2013 because the quality of the harvest didn't meet the high standards necessary for Liber Pater wines. Tasting Liber Pater wines is a transcendental experience that carries you back to the nineteenth century to rediscover the magnificence of Bordeaux wines through his red and white cuvées.
The Liber Pater Rouge "La Scène" 2010 is dazzling deep ruby-hued wine with beautiful layers of complexity. Freshness adorns the palate that is decorated with plenty of dark fruit, herbs and black tea leaves. The lengthy finish bursts with minerality. This vintage is a blend of 85% Cabernet Sauvignon and some Merlot along with the older Bordeaux varieties like Tarnay Coulant and Saint-Macaire. The Liber Pater Blanc "La Scène" 2010 is and intensely concentrated Sémillon and Sauvignon blend overflowing with citrus, tropical fruit and vanilla aromas. The palate articulates freshness and complexity with a full mouthfeel and generous minerality. The wine comes to an end with an intensely long finish. Interestingly, the label on these two wines represents a wedding banquet, which is a tribute to Pasquet's own marriage in 2010.
The Liber Pater Rouge "L'Orage" 2009 is an exquisitely generous full-bodied red wine. The bouquet is abound with ripe fruit like black plum and blackberry along with savoury herbs and black tea nuances. The palate offers intense flavours and a generous mouthfeel coated with velvety tannins. The blend consists of 80% Cabernet Sauvignon and 20% Merlot. The Liber Pater Blanc "L'Orage" 2009 is the debut white vintage with 90% Sémillon and 10% Sauvignon Blanc. The wine reveals an illuminating pale lemon colour with flickering green hues. Pineapple, honeysuckle and spiciness highlight this exotic bouquet. The generous, fleshy palate offers vibrant fruit that extend to the lengthy, lemony finish. For these two wines, the label represents the two thunderstorms that occurred during the growing season. The Liber Pater Rouge "La Feuille" 2007 is a blend of 60% Cabernet Sauvignon and 40% Merlot with a deep ruby colour. When swirling the wine, delicate earthy, tobacco and garrigue aromas overflow the glass: This dense wine offers a voluptuous mouthfeel with silky tannins. Pasquet shows the importance of 2007 through the label with the image of a leaf – this was the year in which he no longer had to lease his vineyard and could take ownership over his property himself.
Liber Pater wines are the purest expression of terroir and its vines – wines that take you back in time to rediscover the Bordeaux of yesteryear. A Bordeaux that Loïc Pasquet mystically illuminates in all of his exquisitely rare and illustrious vintages. Just one sip of these wines will leave you with only the unquenchable desire for more.