The path to Priorat and more elegant styles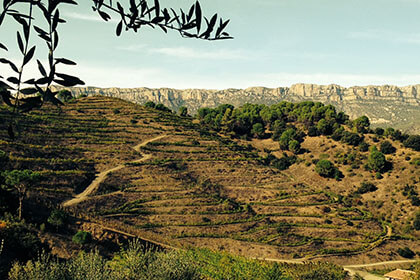 Franck hails from the Loire Valley where he grew up surrounded by the wines of his parents' wine shop. After leaving France, he made his way to Germany where he immersed himself into the world of wine working as a sommelier and visiting wineries to expand on what he knew about wine. Once he moved to London, this is where he started moving towards stardom. As a protégé of Gerard Basset MW, one of the world's best sommeliers, he worked his way up to head sommelier at a London Michelin-starred restaurant and also became the UK's best Sommelier of the Year 1996. However, he turned away from wine serving and into winemaking with a move to Priorat, Spain's most prestigious wine region, in 2004. He became completely enthralled with the landscape that he found to have endless contrasts, and so he decided to buy a vineyard plot with a sommelier friend in the village of El Molar. His first harvest gave them their very first wine Huellas that was only 500 bottles. Although they were both pleased with their first wine, they desired to produce a more atypical wine from the region. This led to a move up the slopes at a higher altitude near the village of Poboleda where they began elaborating a fresher, more elegant style of wine from Priorat. In addition to his own elaborations, he also collaborates with new up-and-coming wineries in Spain through his company Epicure Wines that he founded in 2009. Since then, this top sommelier turned winemaker with his incredible talent is redefining style and quality in Spain, and bringing other new winemakers along with him to launch Spanish wines into a new stratosphere of quality.
Capturing Priorat's sparkling terroir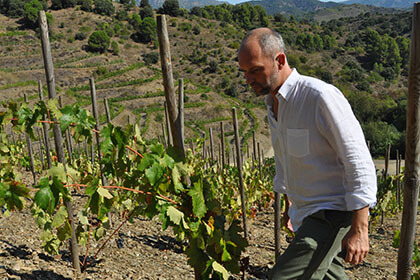 There is little surprise why Franck Massard would choose Priorat to be the place for him to transition into a winemaker. This fairly small wine area consisting of less than 2,000 hectares is a mosaic of climates, altitudes and soils that all work together to produce wines marked with Priorat's unique identity. His vineyard is in one of the coolest areas of Priorat at elevations of 300 to 550 meters, and have the benefit of the cool-blowing dry Cierzo north wind in the morning and then the Garbí wind in the afternoon. Along with the varying day and night temperatures, this environment gives the grapes the perfect opportunity to achieve a perfect balance of fresh aromas and acidity. These intense aromas also come from the slate soils in Priorat, which date back to over 400 million years ago to make them the oldest in all of Catalonia. This slate is a special type of slate called llicorella, and when the sun hits it, tiny little flecks in the soil start to sparkle in the sunlight. In addition to this twinkling feature, llicorella is poor in nutrients, so yields are low and this results in grapes with beautifully intense aromas. Franck Massard has become a master of capturing all of this essence from the terroir to produce truly refined and elegant Priorat wines.
His artistry then continues in the winery. Franck Massard desires to capture the best identify of his grapes, so there is minimal intervention during the winemaking process. Extraction and ageing are done with the upmost care and precision so as to preserve the identity of the grapes and to capture the finest essence of the terroir. The ageing in particular uses 500-litre barrels with light toasting so that his wines have subtle aromatic oak flavours and fine-grained tannins. Without a doubt, Franck Massard had taken his sommelier's nose and palate to create an elegant Priorat style.
The essence of Priorat in the Franck Massard range
What we can expect from Franck Massard's wines are wines that not only show true expressions of Priorat's terroir that give us these beautifully red-coloured, ripe fruit, spicy wines, but wines that blend his passion, creativity and all of his life experiences into the vintage to give us his story and the story of Priorat.
The first in his range is his EDA that pays tribute to the village of Poboleda, which can be seen in the name of the wine itself – the last three letters of the village is the name of the wine. Massard views these three letters as a trilogy representing an ideal micro-climate, astounding schist soil and captivating energy. This makes this 100% Carignan wine an intensely elegant one. The intensity comes from its bright ruby colour and high, but integrated and balanced, alcohol with concentrated ripe black cherry aromas and flavours. The elegance is from the nuanced smoky and eucalyptus notes framed within a structure of notable acidity and velvety tannins.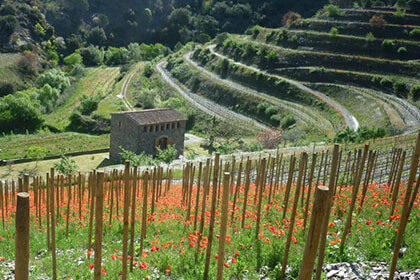 Huellas is another wine that had its beginnings back in 2004 when Massard bought a small vineyard with his sommelier friend. This was his first wine that started as a small project, which he aptly named as "Huellas" meaning "fingerprints" to denote the craftsmanship involved in this wine. The 60% Carignan and 40% Garnacha give an elegant wine with velvety tannins and a refreshing acidity. Ripe plum and blackberry aromas open the nose with smoky dark chocolate appearing with some aeration. The black fruit carries through to the palate where the notable acidity add hints of mint. Nothing conveys classic Priorat richness than this Huellas.
For the Bellesa Perfecta, Massard's aim was to produce a wine that was not only the best expression of the terroir, but to make something that was atypical in the region, to have his wine preserve freshness, which is often missing in Priorat wines. He achieves this in his 60% Grenache and 40% Carignan dark ruby wine that exudes plummy, spicy garrigue and smoky aromas complemented with a savoury texture and fine-grained tannins on the palate.
Franck Massard's journey from superstar London sommelier to masterful Priorat winemaker is a journey that has not reached the end of the road yet. We can anticipate that his passionate commitment to redefining Priorat styles and raising the quality in the region will only continue to evolve just like his elegant wines vintage after vintage.