The very definition of a California cult wine, the Harlan Estate Proprietary Red has been described by Jancis Robinson as "one of the ten best wines of the twentieth century" and has received a 100-point rating from Robert Parker for not one, but six different vintages. The vineyards, carved out in the steep, oak-studded hillsides of Napa Valley's Oakville AVA, produce a very limited yield of high-quality fruit, vinified with great care into a luscious, powerful red wine, inspired by the style of Bordeaux's Left Bank. Founded by Bill Harlan with the ambition to produce California's very own version of a "First Growth," the Harlan Estate today bears witness to the ancient tradition of a father passing his knowledge to his son, with Will Harlan gradually taking over the reins of the family's California winemaking empire.
Harlan Estate: The History of California's Very Own Version of "First Growth"
H. William Harlan II was born to a meatpacker father and homemaker mother in the year 1940, in Pico, California. In 1959, he enrolled in University of California Berkeley to study communication and public policy. It was at this time, that Harlan made his first visits to the Napa Valley wine region on weekends with a friend who had a cellar there. Together, they toured the few wineries that, in those times, were open to visitors. And when the Robert Mondavi Winery opened its doors in 1966, Bill Harlan was there. After graduating college, Harlan took a few years to explore the world as a young man, spending almost a year hitchhiking across Africa, another few years living at a casino hotel playing poker, racing motorcycles, building and selling houseboats and selling insurance. In 1973, Harlan began investing in real estate and joined Peter Stocker to found a real estate development firm that converted apartment into condominiums in San Francisco. This company, named Pacific Union, became very successful.
It was during this time that Harlan really set his sights on Napa Valley, although he had always dreamed of one day owning land there. In 1979, he and his partners purchased a run-down country club in Napa and turned it into the Meadowood luxury wine resort. Around a year later, Harlan joined a group of Napa vintners, including Robert Mondavi, on a trip around Europe's most prestigious wine regions. It was during his visit to Château Mouton Rothschild that Harlan was first inspired to think beyond his short-term projects in real estate and consider building a legacy that would span generations in California's wine industry. This saw the beginning of Bill Harlan's "200-year plan," designed to help him achieve what he had experienced in Europe. Upon returning to California, he began scouting prime vineyard land and in 1983 he bought one of the region's most historic wineries, Merryvale Vineyards. When his partners at Merryvale bought him out in the 1990's, he invited them to join his new BOND project. Today, the BOND portfolio includes 5 sought-after wines from 5 different vineyards, nicknamed by Harlan the "grands crus of California."
One year later, Harlan purchased a 40-acre site upon an oak-studded hillside of Oakville, overlooking Napa Valley. His ambition for this land was clear: to produce a California's very own version of a "First Growth." But before that could happen, Harlan would have to invest heavily in having this rocky land cleared and vines planted at record density on steep hillsides. The Harlan Estate, its vineyards and winery, were established in a transition zone between forest terrain and the valley, planted with vines. It is this proximity to the "wild terrain" of the forest that Harlan believes gives their wines its unique character. Over the years that followed, Harlan would expand the estate by 200 acres to its current 240. The estate produced wine in 1987, 1988 and 1989, though the quality at this point had not yet reached the desired level. The debut vintage of 1990 would first be released in 1996 for a then-expensive $65 per bottle. Since then, Harlan, winemaker Bob Levy, and estate director Don Weaver have managed to cement Harlan Estate as one of the premier cult wines of California, with a whopping five vintages scored 100 points by Robert Parker and named "one of the ten best wines of the twentieth century" by Jancis Robinson. In 1995, Harlan Estate began the production of another signature wine named The Maiden.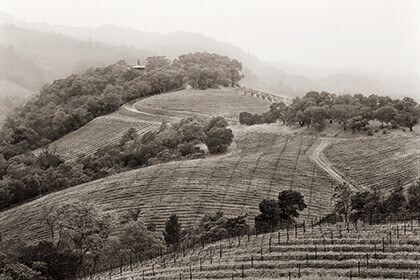 It was in 1985 that Bill Harlan met his wife Deborah Beck, then a TV spokesperson, on a blind date. One year later they were married and their first child, Will Harlan, was born in 1987. Their daughter Amanda Harlan was born two years later. By 2000, Harlan's attention had shifted almost entirely to winegrowing in Napa Valley. Holding steadfast to his 200-year-plan, Harlan has made sure to involve his son Will in the winemaking and establish ties for him in the wine industry to last him in the future. Will joined Harlan Estate for the 2012 harvest at 26 years old. Since then, he has remained at his father's side, learning everything there is to know about winemaking and taking over the reins of some branches of the family business, including the second-generation Promontory project, a new vineyard acquired by the family in 2008.
The Harlan Estate Terroir
Situated in the western hills of the Oakville AVA, in the heart of Napa Valley, Harlan Estate expands over roughly 240 acres (97 hectares) of natural splendour at elevations between 225 and 1225 feet (68 to 374 m) above sea level. Out of this, a mere 40 acres (17 hectares) are planted to grape vines, in a proportion of 70% Cabernet Sauvignon, 20% Merlot, 8% Cabernet Franc and 2% Petit Verdot, following the model of Left Bank Bordeaux. The hillside vineyard of Harlan Estate is characterized by both volcanic and sedimentary bedrock with a wide range of soil types, as well as exposures. Some of the vines are planted on terraced vineyards, while some other vineyards are planted close together on spare soils over fractured rock. The vineyard team at Harlan Estate, led by vineyard manager Mary Maher, is very much "eyes on," watching and caring over the vineyard very closely. Deeply familiar with the personality of each individual vine and vineyard area, the pruning is adjusted to the particular needs of each plant.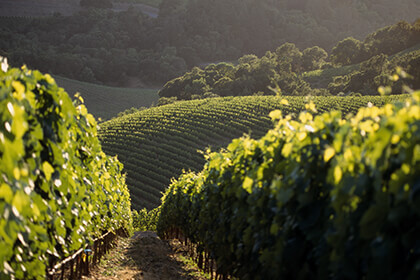 Crop thinning is practiced at Harlan Estate in order to reduce yields to, on average, two to two and a half tons per acre. The soil is treated with mostly organic fertilizers in order to nourish the vine. During July and August, the crop level is reduced if seen to be too high, and green clusters are removed after veraison to help ensure that all clusters ripen in time for harvest. Following the harvest season in the fall, the vineyards are winterised by planting a variety of cover crops in order to help prevent erosion on the hillsides.
Winemaking at Harlan Estate
The Harlan Estate winery was designed by architect Howard Backen, and is situated on top of a hill, overlooking the central part of Napa Valley, surrounded by native oaks and other forms of vegetation. Bob Levy has taken care of the winemaking side of the operation even before Harlan existed (as winemaker at Merryvale) and stayed on for almost two decades. He is now the Director of Winegrowing at Harlan Estate, while Cory Empting has taken over as the estate's full time winemaker. The team works with famous French winemaking consultant Michel Rolland.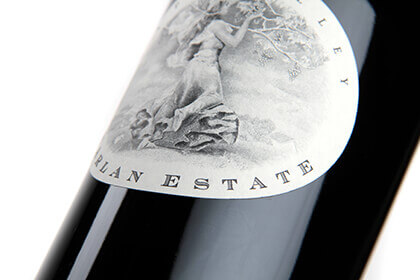 Out in the vineyards of Harlan Estate, the fruit is manually collected early in the morning in small bins with plenty of attention paid to not prematurely crushing the fruit. Only perfectly ripened grapes are harvested and undergo several waves of manual sorting at the winery on multiple sorting tables. The fruit is then fed by gravity into small, open-top tanks, where they undergo cold maceration for five to seven days before the temperature is raised and alcoholic fermentation begins. Great care is taken not to over-extract the fruit, with pump-overs carried out only in vintages and parcels that call for it. Malolactic takes places in 100% new French oak barrels, where the wines then remain for 24 to 36 months, depending on vintage. Each parcel at Harlan Estate is vinified separately, depending on the specifications of terroir, vintage and varietal. Each year, Harlan Estate releases only 1,200 to 2,000 cases of its flagship wine.
Harlan Estate: The Signature Style of a California Cult Classic
The Harlan Estates Proprietary Red Wine is a legendary Cabernet Sauvignon dominant blend made in the style of Left Bank Bordeaux, but expressing the singular terroir of California's Oakville AVA. In the glass, this wine reveals a deep, garnet purple, inky plum colour. The aromatic bouquet offers an onrush of ripe, jammy cassis, black cherry and crushed blackberry aromas, enhanced by nuances of baking spices, forest floor, wild herbs (sage) and dried violet petals. On the palate, this wine is full-bodied with a voluptuous texture, tremendous structure and beautifully integrated, fine-grained tannins, along with concentrated black fruit flavours consistent with the nose. Its presence seems to linger on the palate forever, offering wave after wave of decadent fruit flavour. A wine that can easily be cellared up to 30-50 years, depending on vintage.