Cabernet Sauvignon reigns supreme over this rugged terroir, ripening fully in the California sunshine to produce the big, bold and fruit-forward red wines that have historically defined the Napa Valley style. But while Napa's reputation has been built on these powerful New World Cabs, Bordeaux blends and rich, buttery Chardonnay, some producers are now opting for leaner and more refined Old World styles, which emphasise earthy and savoury characteristics over pure fruit. The vineyards of Napa are also home to a dazzling variety of other grape varieties from around the world, producing world-class Zinfandel, Pinot Noir, Syrah, Sauvignon Blanc and Viognier (to name a few) in a distinctly Napa Valley style.
The History of Napa Valley Wine
The winemaking tradition of Napa Valley dates back to the second half of the 19th century, when pioneering figures like George C. Yount and Thomas Rutherford planted the very first vines in Californian soil. John Patchett and his winemaker Charles Krug founded one of the first commercial wineries in the country in 1858, while Jacob and Frederick Beringer founded Beringer Vineyards, one of the state's oldest still-operating wine cellars, in 1875. Inglenook Winery, known for producing some of the very first Bordeaux style wines in the USA, was established in 1879. By the turn of the century, Napa wine country was home to around 140 wineries in total.
The first half of the 19th century brought a slew of challenges to Napa Valley vintners, including the phylloxera louse, which wiped out many of these early vineyards. Enacted in the year 1920, Prohibition also caused several wineries to shut down. The few that remained would focus on the production of sacramental wine. The Great Depression that hit the country in the 1930's continued to block the progress of the American wine industry. It was not until the end of World War II that the wineries of Napa Valley would thrive again.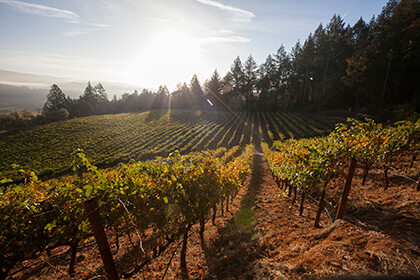 One of the first post-war winemaking pioneers, widely regarded as the father of Napa's modern wine industry, Robert Mondavi left his family's wine business in 1965 to establish his own winery in Oakville. He purchased the historic To Kalon vineyard, first established by H. W. Crabb in 1868 and began producing high-quality wine. Mondavi would go on to develop a wide range of premium wines, introducing the idea of varietal-labelling and forming a joint venture with Bordeaux legend Baron Philippe de Rothschild to create the legendary Opus One Winery.
The wines of the region achieved international fame at the Judgement of Paris wine tasting of 1976, where a Napa Valley Cabernet Sauvignon and a Napa Valley Chardonnay were rated higher than many of the best wines of France. This success served as momentum for winemakers in the area to invest in modern equipment and introduce new techniques with a focus on quality. Today, Napa Valley wines are considered some of the greatest New World wine, even competing with French wines on the global market. The region is also a leader in wine tourism, serving as a role model to wine estates around the world.
A Terroir of Mountain and Valley Floor AVA's
The Napa Valley wine region is situated just an hour's drive from the city of San Francisco in northern California. The valley stretches north from the San Pablo Bay and runs mostly Southeast-Northwest between the Vaca Mountains in the east and Mayacamas Mountains in the west. Overall, the region enjoys a unique range of mesoclimates formed by different combinations of geological, topographical and climate factors.
Generally the American Viticultural Areas (AVA's) toward the south are characterised by cooler temperatures from the morning fog that flows in from the San Pablo Bay nearby. The Los Carneros AVA receives plenty of cold and wet winds from the Pacific Ocean, which enter through a gap in the mountains known as the Petaluma Gap. This foggy and cool climate is ideal for the cultivation of Pinot Noir and Chardonnay , used to produce both still and sparkling wines. The nearby Oak Knoll District AVA is also characterised by a cooler climate, and the vineyards here are planted with Merlot, Chardonnay and Cabernet Sauvignon, along with cooler-climate grapes like Pinot Noir and Riesling. The Coombsville AVA, with a similar cool climate, is home to Chardonnay, Syrah, Carmenere and Pinot Noir vines.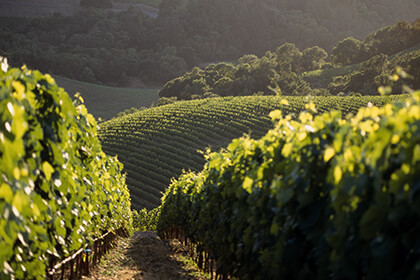 One of the most historic wine producing areas of Napa, the Yountville AVA is also characterised by a cooler climate, resulting from a marine air currents and fog which flow up its valley. This area is mostly planted with Bordeaux varieties, as well as Chardonnay. The Oakville AVA, considered by many the heart of Napa Valley's Cabernet Sauvignon country, is situated north of Yountville, and warm enough to ripen Cabernet Sauvignon. Here, morning fog from San Pablo Bay creates a diurnal temperature range that helps the grapes maintain their acidity. East of Yountville, the Stag's Leap District AVA is known for its signature Cabernet Sauvignon and Petite Sirah wines.
Further north along the valley floor, the Rutherford AVA is home to some of the region's best vineyards, which benefit from abundant sunshine, along with subtle cooling influences from fog in the summertime. Here, the star grape is Napa Valley Cabernet, which is complemented by Merlot, Cabernet Franc, Malbec and Petit Verdot in Bordeaux blends.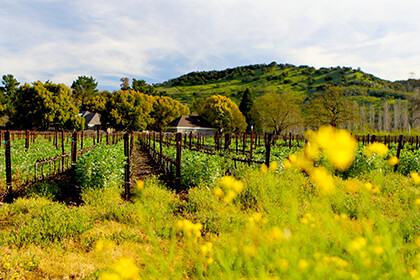 The more sheltered AVA's in the north are often much warmer, relying on higher altitudes to provide the cool nights necessary for quality winemaking. While Rutherford still benefits from cool fog off the San Pablo Bay, the St Helena AVA and Calistoga AVA to the north does not. This is because the ocean influence fades with distance from the bay and altitude of the vineyards. St Helena is therefore one of the warmest AVA's of Napa, producing very powerful, structured and rich wines from Zinfandel, as well as some Sauvignon Blanc. Even further up the valley, Calistoga depends more on the increased elevation of its vineyards and the proximity of its vineyards to the Napa River for the cooling effect necessary to counterbalance the hot temperatures. Here, winemakers produce full-bodied Zinfandel, as well as Syrah, Cabernet Franc and Petite Sirah wines.
The Napa Valley wine region is also home to several mountain appellations, situated on the slopes of the Vaca and Mayacamas Mountains. In these vineyards, altitude plays a larger role in determining the climate and growing conditions. Southwest of Calistoga, the Diamond Mountain District AVA is home to vineyards at elevations of 656 to 820 feet on the Mayacamas, where the fog is no longer a key feature of the climate. Here, a sun-baked landscape gives rise to big, bold Cabernet Sauvignon wines, along with Bordeaux blends from Merlot, Cabernet Franc, Malbec and Petit Verdot. Some Chardonnay and Sauvignon Blanc are also grown here.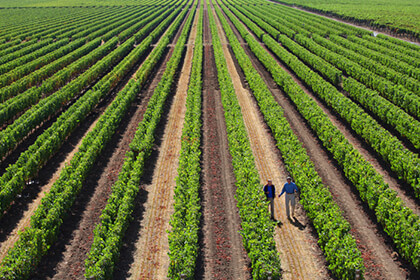 Also on the Mayacamas, the Spring Mountain District AVA reaches a peak of 2,600 feet and is home to terraced vineyards which benefit from some cooling breezes from the Pacific Coast, but no fog from the San Pablo Bay. Here, volcanic and sedimentary soils are planted with Cabernet Sauvignon, as well as Zinfandel, Merlot, Malbec, Chardonnay and Riesling. Further south along the Mayacamas range, the Mount Veeder AVA enjoys some of the effects of the San Pablo Bay, although higher elevations result in warmer temperatures than in Carneros, for example.
The Howell Mountain AVA is situated on the western slopes of the Vaca Mountains, at elevations between 1,400 and 2,600 feet. Here, very unique soils of tufa (decomposed volcanic ash) and red clay give rise to a signature Cabernet Sauvignon, which tends to be earthy, savoury, peppery, smoky and massive in style. These vineyards are also home to Zinfandel, Merlot and Petite Sirah vines, which produce equally complex and intense wines. On the western side of the Vaca Mountains, the Atlas Peak AVA is the one of the region's highest winegrowing areas, with vines planted as high as 1665 feet above sea level. Here, high altitudes result in ideal diurnal temperature variation to produce wines in a fine, lean and classic style. As in the rest of Napa Valley, Atlas Peak winegrowers cultivate mostly Cabernet Sauvignon, although Zinfandel is also popular here. White wines are made almost only from Chardonnay.
Californian Wines in a Variety of Styles
The reputation of the Napa Valley wine region was principally founded upon the two most planted grape varieties in the region, Cabernet Sauvignon and Chardonnay. Long, very sunny summers and extended hang-time (harvesting at a later date) historically resulted in the classic "Napa Cab" style, a big and bold red wine with plenty of alcohol and exuberant ripe fruit aromas on the nose. The same warm climate, combined with winemaking techniques like encouraging malolactic fermentation and extensive oak ageing resulted in the classic style of Napa Chardonnay, a voluptuous, full-bodied and buttery white wine with aromas of ripe stone fruit, baked lemon and vanilla from oak. A classic Napa Cabernet or full-bodied Napa Bordeaux blend has enough power and intensity to pair with boldly flavoured dishes, like a ribeye steak served rare to medium-rare, a classic hamburger or portobello mushroom burger. The voluptuous, oak-aged Napa Chardonnays will need something equally full-bodied to pair with, a poultry or fish dish with a rich cream sauce, for example.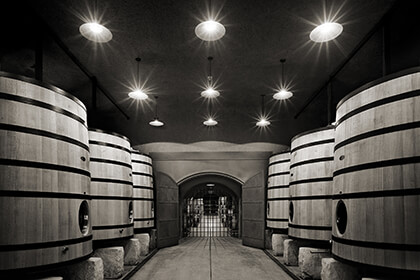 While the classic "New World" Napa Cabernet and Napa Chardonnay styles remain popular among American consumers today, many winemakers are opting for a leaner, fresher, more elegant "Old World' style for both their red and white wines. This is particularly the case in Napa Valley's mountain appellations, where higher altitudes often result in red grapes with lower alcohol, higher acidity and more earthy, savoury and spicy aromas. In the AVA's closer to the San Pablo Bay, more of the cool morning fog influence helps white grapes maintain their natural acidity and ripen more slowly than on the hot, flat valley floor. These more reserved styles of red wine will pair beautifully with the gamier notes in a roasted lamb or grilled quail, while the leaner white styles will pair nicely with fresh seafood or roasted chicken with lemon and herbs.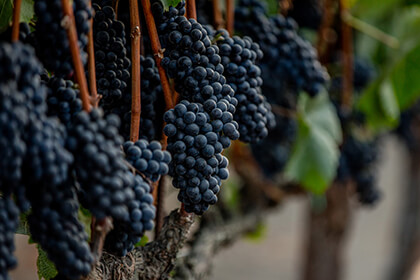 Although Cabernet Sauvignon and Chardonnay dominate the vast majority of plantings in the Napa Valley region, the wide array of mesoclimates and soil types to be found here provides a varied terroir for the cultivation of other red wine and white wine grape varieties. Merlot and Cabernet Franc are also widely planted and blended with Cabernet Sauvignon to produce bold and powerful Bordeaux blends. Zinfandel also thrives in the hot climate of Napa, producing intensely flavoured red wines with ripe black fruit and spice aromas. Pinot Noir is grown in some of the cooler AVA's, particularly Carneros and Oak Knoll, and made into fragrant, medium bodied red wines with bright red berry aromas. Syrah is also cultivated and used to produce leaner Old World styles as well as big, bold New World Shiraz. Other red varieties planted in Napa include Italian grapes like Nebbiolo, Sangiovese, Dolcetto and Barbera, as well as Petite Sirah and Charbono. The main non-Chardonnay white grape varieties planted here are Sauvignon Blanc, Muscat, Pinot Grigio and Viognier.