The History of Rioja Wine
As is true of most great wine-growing regions of Europe, the history of Rioja dates back thousands of years. It was the Phoenicians, around 3,000 years ago, who first began to grow vines in this area, even before the Romans took over during the early 2nd century BC. Between the 2nd and 6th centuries, wine growing flourished in this region under Roman rule, with new vineyards planted and new bodegas popping up to supply the insatiable demand for wine among the Roman troops. Several archaeological remains have confirmed the importance of viticulture at this time, including several amphorae and large cisterns designed to hold wine.
During Moorish occupation of the Iberian Peninsula, winemaking slowed down a bit in the Rioja region, but picked back up following the Reconquista. By the late Middle Ages, the reputation of Rioja wines had been well established both within the region and abroad, thanks to the many religious pilgrims who had passed Rioja on the way to Santiago de Compostela, sampled the wine and spread the word about it after returning home. At this time, the fame of Rioja spread by word-of-mouth as the region wasn't geologically well suited for large-scale export.
A certain curiosity led a wine-loving priest by the name of Don Manuel Quintano to travel to Bordeaux in the 1780's. He had previously observed that the wines of Bordeaux were becoming very well known for quality and that they travelled significantly better than those of Rioja. Visiting the great chateaux of the Medoc, which would just a few decades later become Bordeaux First Growths, he learned all about the winemaking innovations at the time. Upon his return to Rioja, Don Quintano decided to apply the practice of ageing wines in oak barrels to his wines, which ended up dramatically improving their longevity and their ease of transport.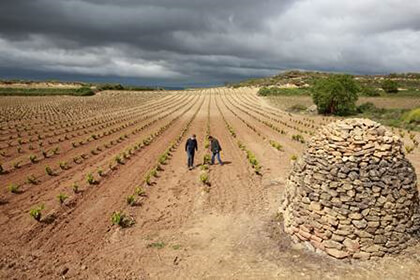 While a few producers followed Quintano's lead and adopted the "Quintano Method" (resulting in Rioja wines finally travelling safely to Cuba, Mexico and Veracruz) most traditional winemakers of the region rejected these changes as threats to the traditional winemaking culture of Rioja and fought against them. Ultimately, the local authorities decided that all Rioja wines were to be sold at the same price, even if oak ageing made them far more expensive to produce. Faced with such a significant disadvantage, oak ageing was abandoned altogether, at least for a few more decades.
It wasn't until the 1840's that a Peruvian gentleman named Luciano de Murrieta decided to bring these Bordelais practices back to Rioja, purchasing hundreds of small oak barrels in which to age his wines, produced from native grape varieties grown on the land of his employer, General Baldomero Espartero. Eventually, Luciano de Murrieta began ageing the wines longer, up to four years, and using American oak rather than French oak. In 1872, he was named a Marqués de Murrieta by King Amadeo of Savoy for his role in improving the quality of Rioja wines.
At this point, you might be wondering why Luciano de Murrieta was so celebrated for Bordeaux-ifying his Rioja wines, when Don Manuel Quintano just 60 years before him had been shunned for doing the same. In fact, by the end of the 19th century, episodes of mildew followed by the phylloxera epidemic had destroyed most of the vineyards of France, leaving behind a tremendous demand for oak-aged, high-quality wines. Rioja, having been spared by the epidemic up until that point and newly experimenting with oak-ageing, was there to fill the demand. It was during this time that producers like Lopez de Heredia, CVNE and La Rioja Alta – all heavily influenced by French winemaking – came to lead the way in Rioja.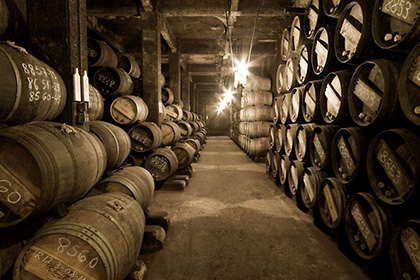 The phylloxera outbreak led several wine merchants from Bordeaux to Rioja in search of new suppliers. At the same time, many French winemakers also settled in Rioja to continue producing wines, bringing their savoir-faire and wine culture with them. This "French connection" ushered in a new era in Rioja, one that would cement "oak ageing" as an integral part of Rioja winemaking. To this day, the Rioja wine style is characterised by the aromas and flavours lent to the wines by the barrels in which they age.
This golden age lasted only a few decades however and came to an abrupt halt when phylloxera finally arrived in Rioja in 1901. By the time the vineyards were fully replanted, Spain was in the throes of World War I, followed by the Spanish Civil War and World War II. The effects of these tumultuous times included a country-wide hunger, which resulted in many of Rioja's vineyards being torn up and replanted with wheat. It actually wasn't until the late 1960's and 1970's that Rioja really began to recover, replanting to vine once again, aided significantly by foreign investment and by the reputation of the very successful 1970 vintage.
Faced with competition from other Spanish wine regions, notably Ribera del Duero, some forward-thinking Rioja winemakers took to experimenting with international styles. The demand for deeply coloured, powerful wines to be enjoyed young led several bodegas to cut back on oak ageing in order to release to the market sooner. In 1991, Rioja became the first region in Spain to introduce the quality level of DOCa.
More recently the Consejo Regulador (regulatory body of Rioja) announced the introduction of a new Singular Vineyard designation, Viñedos Singulares, for estates with a terroir-driven approach to winemaking. To qualify for the Singular Vineyard designation, a wine must be made from fruit harvested manually from vines over 35 years old and the harvest yield must be 20% lower than the average DOCa level. This new classification is believed to offer a way for Rioja wine producers to shift the focus off the barrel ageing and focus on the terroir of origin of the fruit as the source of quality.
The Three Sub-Regions of Rioja
The Rioja wine region is located in the north of Spain and best known for its oak-aged red wines made from local Tempranillo and Garnacha grape varieties. The region is bordered by the Ebro River and the foothills of the Sierra de la Demanda and Sierra de Cantabria mountain rangers. The Cantabria Mountains to the north and west of Rioja protect the region from the cold and wet influences of the Atlantic Ocean, providing a warm and dry climate for the vines to thrive in. The Rioja region can be divided into three main geographical areas: Rioja Alta, Rioja Alavesa and Rioja Oriental (formerly known as Rioja Baja).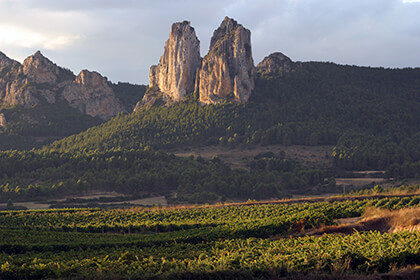 Rioja Alta
On the western side of Rioja, near the historic town of Haro, the Rioja Alta subregion is home to many of the most famous Rioja bodegas, including Bodegas Muga and La Rioja Alta. Here the vineyards are planted at slightly higher altitudes than in Rioja Oriental (hence the name Rioja "Alta" with "Alta" meaning "high"), resulting in a pleasant acidity in the finished wines, as well as a deep colour. The Rioja Alta terroir is characterised by a mix of clay, iron and alluvial soils, which are slightly reddish in colour. These soils are ideally suited to Tempranillo, which forms the base of Rioja Alta wines, as well as Graciano and Garnacha which are sometimes also blended in. Rioja Alta wines tend to be slightly lighter in body than those from Rioja Alavesa, with a focus on elegance and a natural affinity for oak ageing.
Rioja Alavesa
Situated north of the River Ebro, Rioja Alavesa is the northernmost and smallest of the three subregions. Surrounded by the Cantabrian mountains, the vineyards are situated at altitudes of 1300–3930ft (400–1200m), and the cooler temperatures help the grapes maintain a great natural acidity. The vines are planted on slopes and terraces of chalky clay and limestone, which lend tremendous character to the finished wines. The low levels of rainfall of 20 inches (500mm) per year on average forces the roots to stretch even deeper into these soils. Rioja Alavesa is known for its robust, complex and long-lived red wines made from predominantly Tempranillo, with Mazuelo and Graciano sometimes mixed in. Some white Rioja wines are produced as well from the Viura (also known as Macabeo) grape.
Rioja Oriental (Rioja Baja)
The largest of Rioja's subregions, Rioja Oriental is responsible for roughly 40% of the region's output, most of the wine being produced in co-operatives. This subregion stretches from the city of Logrono to the town of Alfaro with the majority of the area located south of the Ebro but with some vineyards north of the river in the commune of Navarra. Unlike Rioja Alta and Rioja Alavesa, Rioja Oriental is characterised by dry, warm summers and a more Mediterranean climate overall. The soils here contain more silt and alluvial components and less chalky clay. The vineyards are planted mostly with Garnacha and some Tempranillo.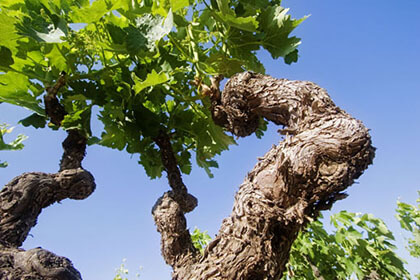 The Rioja Ageing Categories
Historically, the bodegas of Rioja did not actually own their own vineyards but sourced them the fruit from local growers. Therefore, rather than the fruit's terroir of origin, emphasis was placed on winemaking, specifically ageing. Even today, nearly all high-end Rioja wines are aged in new oak barrels. While American oak was once preferred by Rioja bodegas, a blend of French and American oak barrels are now used. Some producers have begun using exclusively French oak. Today, Rioja wines are divided into four ageing categories, based on how long they spend maturing in oak and then ageing in bottle before release. This ageing category system has been adapted by other regions of Spain as well as some wine regions in South America.
Rioja Joven (or "Young") wines spend very little or no time in oak and are usually juicy, fruit-forward and meant to be consumed quite young.
Crianza red wines spend at least one year maturing in oak barrels and one-year ageing in bottle before they are released in the third year. Crianza white or rosé wines also need to be aged for 2 years in total but with only 6 months required on oak.
Reserva red wines spend at least one year in oak and go to market only after three full years after the vintage. Out of the three necessary years before release, Reserva white or rosé wines must spend a minimum of 6 months on oak.
Finally, Gran Reserva red wines age for a total of 5 years following the vintage, out of which at least 2 years must be on oak. Grand Reserva white or rosé Rioja wines must age at least 4 years with at least 1 year on oak.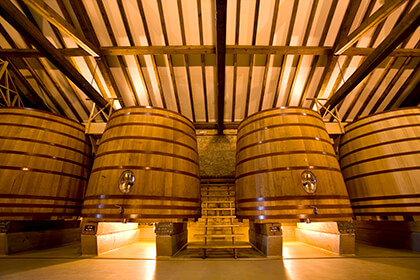 While these categories are defined by a minimum amount of time spent maturing and ageing, Rioja producers often age their wines for much longer than required. Traditional Rioja red wines aged on American oak tend to show distinctive aromas of coconut, vanilla bean and sweet spices. Meanwhile, several Rioja producers have opted for a more modern and international style Rioja wine aged in barrels of French oak.
Roughly 10% of the total production of Rioja is white wines, which have shown significant improvements in quality over the past decade. Historically made from Malvasia, these white Rioja wines are now produced from Viura (known elsewhere by the name of Macabeo). More recently, Chardonnay, Sauvignon Blanc, Verdejo and Garnacha Blanca have also been approved by the Consejo Regulador of Rioja.
Serving and Pairing Rioja with Food
Classic red Rioja wines are best served around 50 to 64 ˚F (10 to 18 ˚C) with a few hours of decanting recommended. These are wines that are sure to please those who enjoy the structure and tannins of a great Cabernet Sauvignon, as well as the fresh black cherry flavours in some Pinot Noir.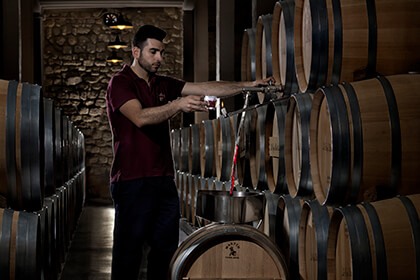 The right food pairing will usually depend on the ageing style of the wine, though you cannot go wrong with some slices of Jamon Serrano or salty, spicy Manchego cheese. While a young and fruity Joven Rioja will stand up to boldly flavoured or spicy dishes, like a chicken tagine or a curry, a slightly woodier Crianza Rioja with hints of vanilla from oak will go better with a more modestly flavoured dish like roast chicken or lasagna. The complex blend of ripe fruit and spice aromas on a Reserva Rioja will make it a great match for roasted or grilled red meats, like a rack of lamb. Meanwhile, the intense depth, silky-smooth tannins and aromas of well-worn leather on a Gran Reserva Rioja will elevated a rich, cosy winter stew, like a classic goulash, served alongside it.