Situated in the peaceful Morey-Saint-Denis appellation of Burgundy's Cotes-de-Nuits is the legendary Clos de Tart, an 18.6-acre property planted with some of the region's finest Pinot Noir. One of only 6 prestigious Grand Cru monopoles in all of Burgundy, this precious patch of land has remained in one piece since 1141, when the Cistercian nuns of the Notre Dame de Tart chapter first acquired the property and began caring for its vines. The wines of Clos de Tart have been called monumental, brooding, powerful and hedonistic, enjoying a hard-earned reputation as one of Burgundy's greatest.
Clos de Tart: Nine Centuries of Winemaking History
The history of Clos de Tart dates all the way back to 1141, when it was first sold by the Maison Dieu in Brochon to the Notre Dame de Tart chapter of nuns from one branch of Burgundy's Cistercian congregation. These nuns are considered the founders of Clos de Tart and they maintained the vineyards, which remained in their possession until the French Revolution. At this time, the property was sequestered by the state and sold at auction in 1791 to Charles Dumand and the Marey-Monge family, who then sold it to Maison Champy and Chauvenet in Nuits-Saint-Georges. In 1932, Clos de Tart was purchased by Henri Mommessin, a negociant from the Macon region.
The 7.53-hectare (185-acre) vineyard, surrounded by a ¾ mile long, low stone wall (as "clos" in its name indicates), was declared its own AOC in 1939, making it a "monopole." It was also classified a Grand Cru, the most prestigious and qualitative level of Burgundy appellations, and is now the largest Grand Cru vineyard of Burgundy, one which has remained in one piece since the very beginning. While Clos de Tart had long produced wines of fine quality, the Burgundy monopole was significantly revamped after the arrival of talented estate director Sylvain Pitiot in 1996. Pitiot is credited with transforming the wines of Clos de Tart into some of the most prized wines of Burgundy.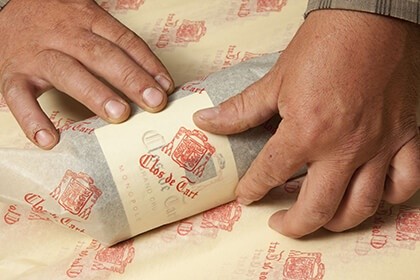 Following a fierce bidding war between some of the wealthiest individuals of France, Clos de Tarte was finally purchased in early 2018 by the holdings company Artemis Domaines of billionaire Francois Pinault for what some have estimated to be over $200 million. This purchase by Pinault, who also owns Chateau Latour in Bordeaux, Eisele Vineyard Estate in Napa Valley, Chateau Grillet in the Northern Rhone and Domaine Eugenie in Burgundy, has put him face to face with his rival, Bernard Arnault, owner of LVMH, who acquired the neighbouring parcel, Clos de Lambrays in 2014.
Clos de Tart: A Precious Terroir for Vines of Pinot Noir
Clos de Tart is a monopole of 18.5 acres in the Morey-St. Denis appellation of Burgundy's Cotes-de-Nuits region, bordered by the grand crus of Gevrey-Chambertin to the north and Chambolle-Musigny to the south. Rectangular in shape, the property is located at an altitude that varies from 883 feet to 900 feet above sea level, with a full east-southeast exposure.
The vineyard can be divided into 27 separate plots, based on differences in geology, vine age, and the makeup of the soil, though the terroir is characterised by mostly well-drained marl and limestone scree. In order to limit erosion, vines are planted in rows that run north to south, unlike the vast majority of vines in Burgundy, which are planted up the slope. The vineyard is also divided into 6 individual blocks, each with its own microclimate, aspect and soil composition, and each of these parcels are harvested separately. The vineyard is planted exclusively with Pinot Noir and the vines are 60 years old on average, though some are over 100 years old. Vine replanting is carried out by block every 5 years, using cuttings from only the most robust vines of the vineyard, to ensure good breeding.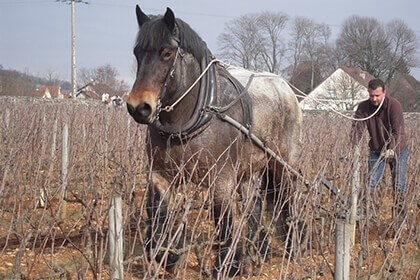 Since 2015, the estate has been certified organic, and Pitiot's successor, current estate director Jacques Desvauges aims to convert the vineyards of Clos de Tart to biodynamic practices soon. Diligent pruning, de-budding and green pruning in August result in a very low yield between 23 to 30 hectolitres per hectare, compared to the 40 hectolitres per hectare authorised in the Morey-St. Denis appellation. The harvest at Clos de Tart is usually one of the latest in the region, with the vineyard team patiently awaiting full phenolic maturity before picking the precious fruit.
Clos de Tart: Patience and Attention: Winemaking Excellence
The new vat room of Clos de Tart was inaugurated in 1999 and today houses several stainless steel tanks with temperature control technology. After around one week of pre-fermentation maceration, the fruit is fermented on native yeasts for another week. Alcoholic fermentation is typically carried out with whole bunches but only when the stalks are ripe and of the right quality. A post-fermentation maceration follows for one week after. Some cuvees are heated at the end of this process to stabilise their colour and destroy undesired lactases. The wine is then drained from the must into casks by gravity. The wines of Clos de Tart are aged in new oak barrels of Troncais and Allier wood for 18-24 months. Their first 10 months are spent in barrels on the ground floor. After this, the barrels are moved down to the underground cellar, dug out of stone in the 19th century, where a constant temperature of 55 °F and humidity of 75% creates ideal ageing conditions. The blend is created right before bottling, and the wines are not filtred.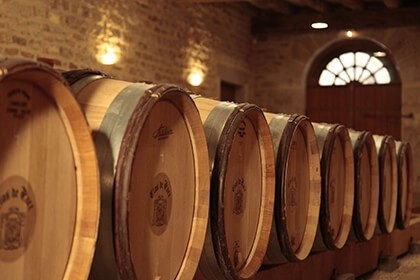 Clos de Tart has an annual production of around 2,500 cases of wine under two labels, Clos de Tart Grand Cru Monopole and La Forge de Tart Morey Saint-Denis Premier Cru. The first wine has been named the best wine of Burgundy by several influential wine critics, who have raved about its silky texture, elegance, and haunting complexity. La Forge de Tart, named after the place where the estate is now located, is considered the estate's "Second Wine," and belongs to the second highest appellation classification of the Burgundy region.
The 2015 vintage of Clos de Tart was particularly representative of the estate's signature style. With its beautifully solemn, brooding bouquet of wild berries and seductive, silky smooth tannins, this monumental Burgundy red is a brilliant success, the very first solo vintage of Jacques Desvauges at Clos de Tart.