Malolactic fermentation is avoided to produce a champagne with a fresher, purer, more fruit-forward aromatic expression, as well as a more dynamic attack. Roundness and complexity are instead achieved through years of age in the cellar before release. The champagnes of Gosset see the light of day only once they are fully ready, dazzling fine wine lovers with their authenticity, generosity and charm.
The History of Champagne Gosset
The first mention of the Gosset family in Champagne dates back to 1531, at which time Jean Gosset was already known as the ""Lord of Aÿ". His grandson, Pierre Gosset was elected Royal Mayor of Aÿ in 1584, and in the same year founded Champagne Gosset, making it the oldest wine house in Champagne. At this time, the family made still red wines in bulk from Pinot Noir grown on their own vineyards. Around the mid-18th century, as demand for sparkling wines developed and advanced glasswork allowed for new pressurised bottling techniques, the wines of Gosset started to sparkle.
It was Simon Gosset, representing the 8th generation of the family, who first produced a small batch of sparkling wines in 1738. His successor, Jean Gosset, created what would become a symbol of the house: an antique bottle with well-rounded sides. This bottle, its neck adorned with an easily recognisable label is truly unique in Champagne and is still used to house Gosset champagnes today. Over the course of more than four centuries, 16 generations of the Gosset men have been present in the Ay commune of Champagne, and a vast majority of them have served as mayors, deputy mayors and prosecutors of the region.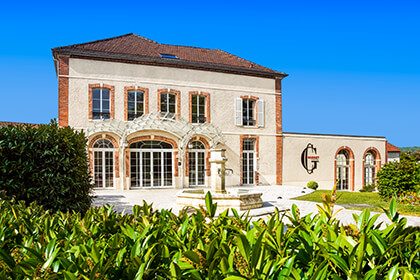 In 1976, Etienne Gosset, representing the 16th generation of the family, joined the family company, eventually becoming Managing Director of Gosset Champagne. After his death, his brothers Antoine Gosset and Laurent Gosset helped their father Albert Gosset manage the company, until 1993, when it was bought by the Renaud-Cointreau family. Today, Jean-Pierre Cointreau is president and chairman of Champagne Gosset.
Winemaking Savoir-Faire at Champagne Gosset
Over the course of the past 12 years, Odilon de Varine has been at the helm of winemaking at Champagne Gosset as Oenologist and Deputy Managing Director of the house. Together with oenologist Gabrielle Bouby-Malagu, de Varine has dedicated himself to following in the footsteps of his predecessor Jean-Pierre Mareigner, who served as cellar master of the estate for over 30 years.
Mareigner was famous for his unique philosophy, still alive and well at the Gosset cellar today: "With Champagne Gosset, the wine comes first, the bubbles come later."
The champagnes of Gosset are produced from Pinot Noir, Chardonnay and Pinot Meunier grown on some of the very best Grand Cru and Premier Cru plots of the Marne district. The fruit is sourced from a dazzling range of 200-300 trusted Marne growers, and is consistently classified in the top 95% on the official quality scale of Champagne, called the "echelle des crus."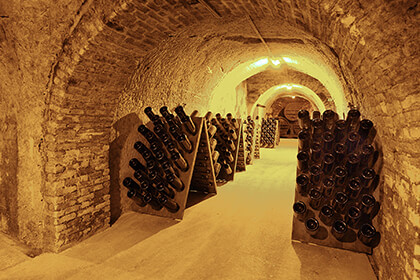 Fruit from different varieties and plots are vinified separately and blended only after fermentation. Setting Gosset champagnes apart from others is the estate's decision to completely eliminate the process of malolactic fermentation. This allows the champagnes to retain the natural freshness of the fruit, which is preserved in every bottle of Gosset champagne. It also allows the champagnes to undergo a longer ageing process.
The Champagne Gosset Range
The signature flagship cuvée of the Gosset Champagne House is their Grande Reserve Brut, made from 45% Chardonnay, 45% Pinot Noir and 10% Pinot Meunier from the villages of Aÿ, Bouzy, Ambonnay, Le Mesnil-sur-Oger, Villers-Marmery. This Brut champagne, dosed with 8 grams of sugar per litre, is vinified and aged on lees, spending a minimum of 3 years in the cellar before its release.
With its generous and intense nose of fresh fruit, full-bodied, complex and structured palate, and stimulating, tight, saline finish, the Gosset Brut Grande Reserve truly captures the house's signature style of slightly yeasty ad savoury champagnes. This non-vintage Champagne will serve equally well as an aperitif or paired with seafood steamed or served in a citrus sauce, as well as delicately flavoured poultry dishes.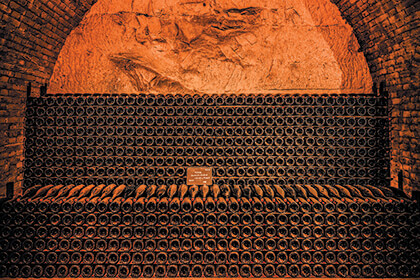 The Gosset Grand Millésime 2006 Brut is a gorgeous vintage Champagne showcasing the excellent quality and perfect maturity of Pinot Noir from this round and generous vintage. This champagne is composed of 56% Pinot Noir from Grand Cru and Premier Cru plots and 44% of Chardonnay, which lends a certain freshness to the blend as well as a pleasant salinity at the finish. The Brut dosage of 6 grams per litre allows the personality of Champagne's great terroirs to shine through, while 10 years of ageing in the cellar results in a dazzling complexity. On the nose, this champagne reveals fresh floral fragrances – lilacs, hawthorn and white blossom – as well as hints of pear and Mirabel plums. The palate shows perfect balance and flavours of citrus, as well as dried fruit. This vintage Champagne will pair well with saltier dishes, like a line-caught sea bass baked in salt or fresh goat cheese.
The Gosset Grand Millesime 2012 is a vintage champagne from the Gosset Champagne House, which blends 67% Chardonnay with 33% Pinot Noir in a wine that receives brut dosage of 8 grams per litre and is aged for more than 5 years on its lees. With its generous nose of warm biscuits, apple pie, fresh lemon and white peaches, along with its fresh and fine palate, this vintage Champagne will stand up beautifully with more decadent seafood dishes, like sautéed scallops or monkfish in an herbed butter sauce, as well as most sushi dishes.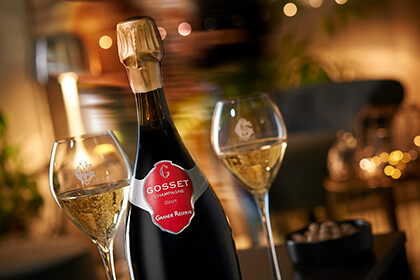 Along with their non-vintage Brut and their vintage champagnes, only made in the best years, Champagne Gosset also produces a Blanc de Blancs, a Brut Rosé, an Extra-Dry Grand Rosé and their prestige, extra-brut Celebris cuvée in both white and rosé expressions. Gosset produces roughly 1.3 million bottles of Champagne per year, making it one of the smaller, more artisanal Champagne houses.
The outstanding quality and unique signature style of the Gosset Champagne House have earned the "Living Heritage Company" (EPV) award by the French government in 2013, making it one of only three Champagne Houses with the same title. The estate has also received the prestigious Trophee de l'Excellence Francaise (French Excellence Award) in 2010.